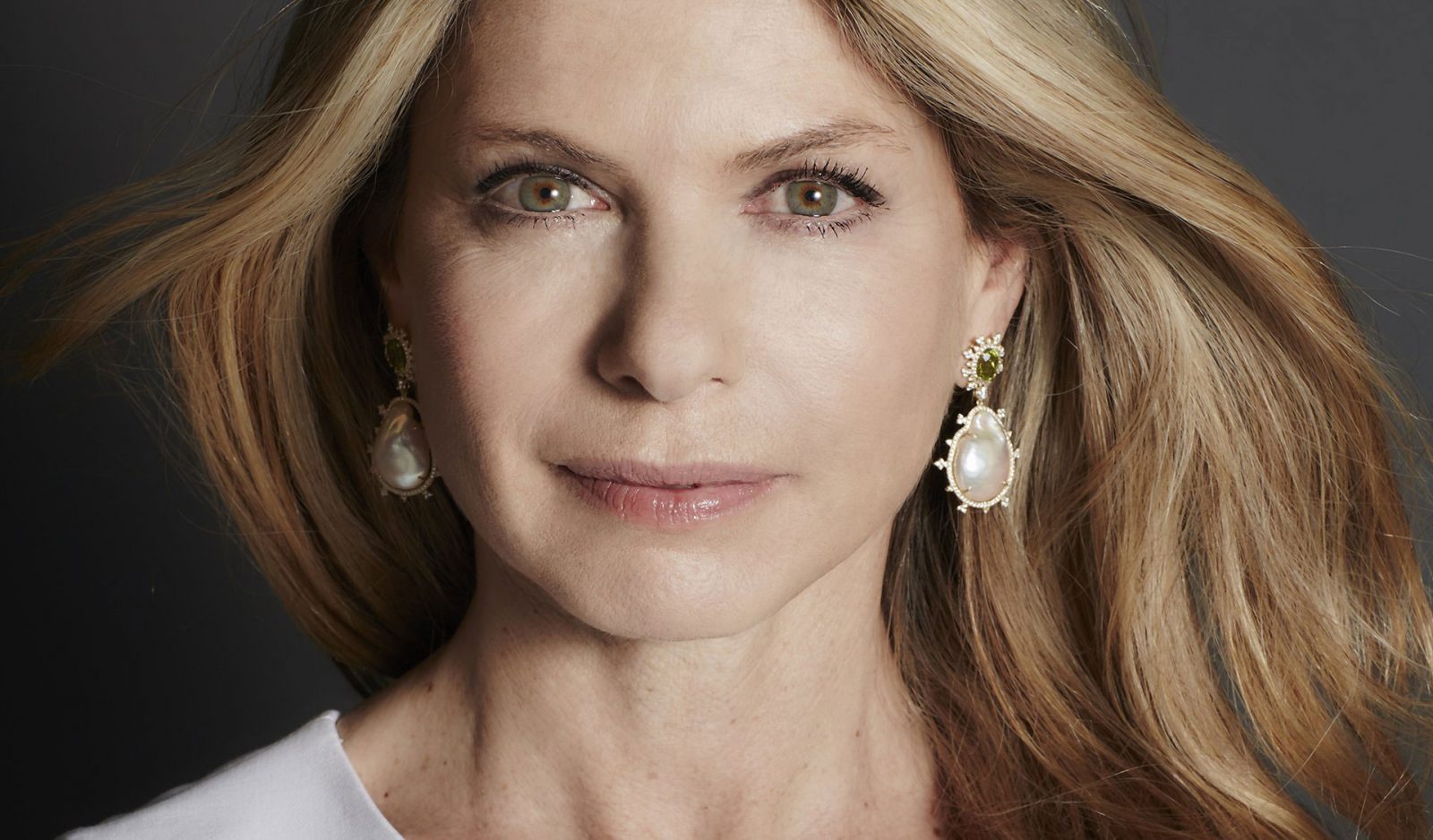 LMC: Where are you located during lockdown and how are you managing to keep your business moving during these strange times?
Nadine Aysoy: I am based in central London and consider myself so lucky as I had decided in October 2019 to leave my office space and work from home for practical reasons .
I was all set up and this was a big help especially when my small team had and still has to work from home.
It was also a challenge as we have to continue to communicate via social media with our clients and engage the world to present the collections we are now unable to show at the planned fairs or at trunk shows . It has on the other side pushed my team and I to become much more creative regarding direct sales-and partnerships and we have found that people where much more receptive to engage and work together to find solutions . We were lucky to have had some sales but of course we have to rethink our strategies for the future as travel and conduct of business will not be the same anymore .
LMC: What has been the biggest challenge for Nadine Aysoy during the past few weeks and how have you sought to overcome it?
Nadine Aysoy: My biggest challenge was our health .
We were unfortunately sick with Covid-19 and it took us 5 weeks to get over it .
It gave me a lot of anxiety about the future the world and the postponed orders did not help.
My fantastic team Laura Muscat and Diana Parsijani were so supportive and kind and kept encouraging me not to become depressed .
Now that I am better we are very proactive and are also trying to adapt to the changing industry .
Online is crucial and we all have to up the game and adapt to the new reality .
LMC: Born in the diamond capital of Antwerp your Grandfather was a famous diamond dealer – Can you recall a special moment during your childhood that may have ignited your passion for diamonds and the art of jewellery making?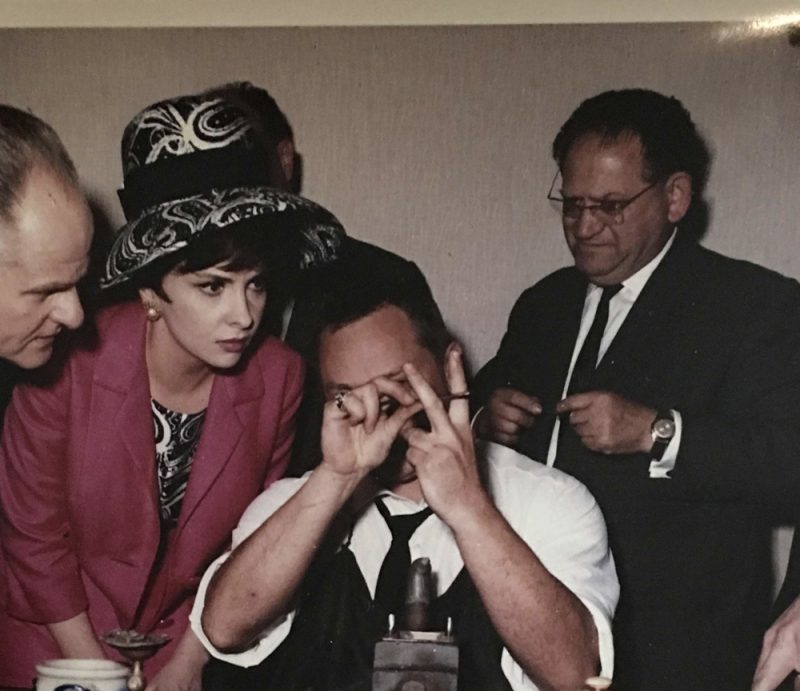 Nadine Aysoy: My mother was my inspiration .
Always so elegant and chic the "Jacky Kennedy "way and when she would dress up with all the jewellery to go to a gala or a party she looked like a movie star .
I Spent my childhood going to my grandfathers/ fathers offices and played with diamonds helping to count and clean them and I believed every child was doing that !
My grand father also had a very rare coloured diamond collection and he used to show it to my sisters and I and it was so special that still today I remember it.
Diamonds are in my DNA .  My love and passion for jewellery is with me since childhood
The art of Jewellery making came later as an adult when I started receiving jewellery form my mother in law and I would transform the pieces to make them more contemporary and to my taste .
LMC: You launched your eponymous brand after a career in investment banking. To what extent was fine jewellery your 'calling' and how has your background in finance influenced the way your brand has evolved?
Nadine Aysoy: I launched my brand in January 2017 in London .it is only three and a half years old .
We had returned form Geneva in 2016 after seven years where I studied gemmology for a year .
I always wanted to work in jewellery and fashion but growing up in Zurich and having left Belgium after my parents divorced when I was fourteen changed everything .
I went on to study economics and straight to investment then private banking where I thrived for twenty two years and giving me the opportunity to work in Europe and the United States and all this wearing beautiful Jewellery of course !
Jewellery was always my passion but I did not consider it to be my work and even when I went back to school in 2014 to study gemmology. I did not intend to create a brand . It just happened and I could not stop designing and my career in finance was totally irrelevant in the process .
I started translating the designs to Cads and work with an atelier in Antwerp for the soul purpose of creativity .
It is only two years later that I decided after my husbands encouragement to create the brand as I had 3 full collections .
I had no experience but I knew that I had to go out there and show the collections .
I hired a PR agent and made all the mistakes of a rookie!
The advantage of having had a previous career in banking is the ability to be flexible and to overcome adversity and turn situations around when it gets difficult .
I also have a vision and a dream, and experience has taught me that it demands work, discipline and commitment..
The challenging part of the business is that it is at the opposite of banking where people keep their words and where a deal is a deal!
I had to adapt and accept !
LMC: How did you find going 'back to school' to study Gemmology and Jewellery design after so many years in banking? Challenging or liberating?
Nadine Aysoy: I had five years between the two when I did not work and had another child so I wasn't in my career mode anymore .
Going back to school to follow your passion is such a gift .I was so happy and interested.  I could finally do what I really loved .
It was so liberating and fun with no pressure or expectations.  I discovered a new world and stones I had never heard of .
It was fantastic .
LMC: Your high-fine jewellery collections play on traditional elegance with a contemporary twist Can you tell us a little about your design aesthetic? Where do your inspirations come from for your collections?
Nadine Aysoy:  I believe in keeping jewellery forever and passing it on to the next generation .
It is my take in sustainability and anti waste .
I have a passion for jewellery from the 1920 until the 70 's and it's timeless elegance and it is a constant source of inspiration combined with the nature and architecture and art .
I find retro very cool in jewellery.  I love to work with a mix of different material and transparencies to give it depth . I also love colour .
I was told that my Jewellery is actually much nicer in real than in photography and I believed it is due my choice of material.
LMC: Brightly coloured gemstones play an important role in your collections. What is your relationship with colour generally and what are your favourite gemstones to work with?
Nadine Aysoy: Colour is part of nature and life and and brightens us . I love colour in art and furniture as well .
Jewellery is a decoration and should enhance the beauty of a woman .
I love to play with the same colour but different temperature .
To go from a dark red to a light pink and stay in the same colour palette to keep the elegance .
I was tempered by the rainbow craze but I finally didn't as I believe I would get tired of it .
I love so many stones from moonstones to emeralds and jade or chalcedony but my favourite is still the diamond especially the coloured ones . I have a special passion for yellow and pink .
I can't help it !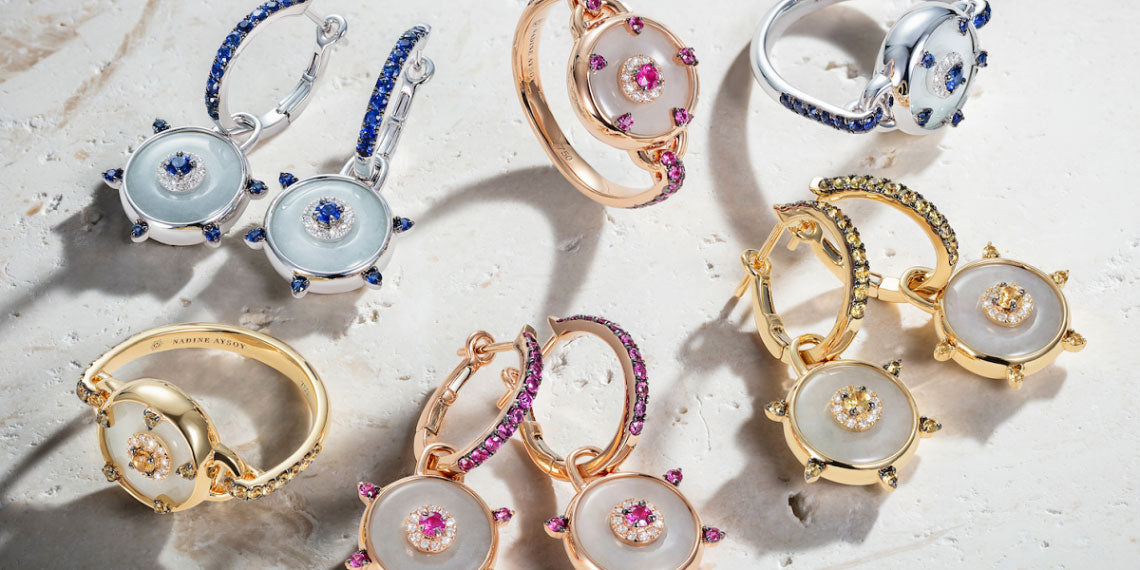 LMC: Your meticulously crafted fine jewellery pieces are made from the finest quality materials and gemstones. Where is your jewellery made and how do you ensure your materials are responsibly sourced?
Nadine Aysoy: I work with two serious companies.  One in Thailand and the other one in Lebanon.
They are very reputable in the industry and one is also working with major players in the jewellery market .
They are wonderful with their employees and I trust them as we work together to source most of my stones and my gold .
Sustainability is not only about the material used but also about ethical work conditions .
I also work with two reputable Diamond dealers in Antwerp that I trust completely .
Trust and reputation are very important in the jewellery industry.
LMC: Your Grandfather founded HRD Antwerp, a leading organisation that specialises in grading diamonds.  With the rise of Lab-Grown diamonds for ethical and environmental reasons, what is your view on Lab Grown versus naturally mined diamonds and how do you think the former will impact the future of the diamond industry?
Nadine Aysoy:  I have another take in lab grown diamonds and it's relevance beside the environment ethical issues .
Mines are dying out and this is why younger generations did not grow up with the De beers Slogan "A diamond is forever "because we are soon not having any natural diamonds anymore . The Argyle pink diamonds will not be found any more and the mine is closing .
De Beers invested heavily in lab grown diamonds to keep up and the industry will eventually slowly flow towards lab grown diamonds as the world reserves will slowly be depleted .
The problem at the present time in my opinion is that the price of a lab grown diamonds is only about 30 % cheaper and the resale values is 0.
As long as natural Diamonds will still be mined we will still have a Dilemma .
A diamond or a precious natural stone is still considered an investment ( the banker is talking ) and as long as natural stones will exist it will never be the same no matter what .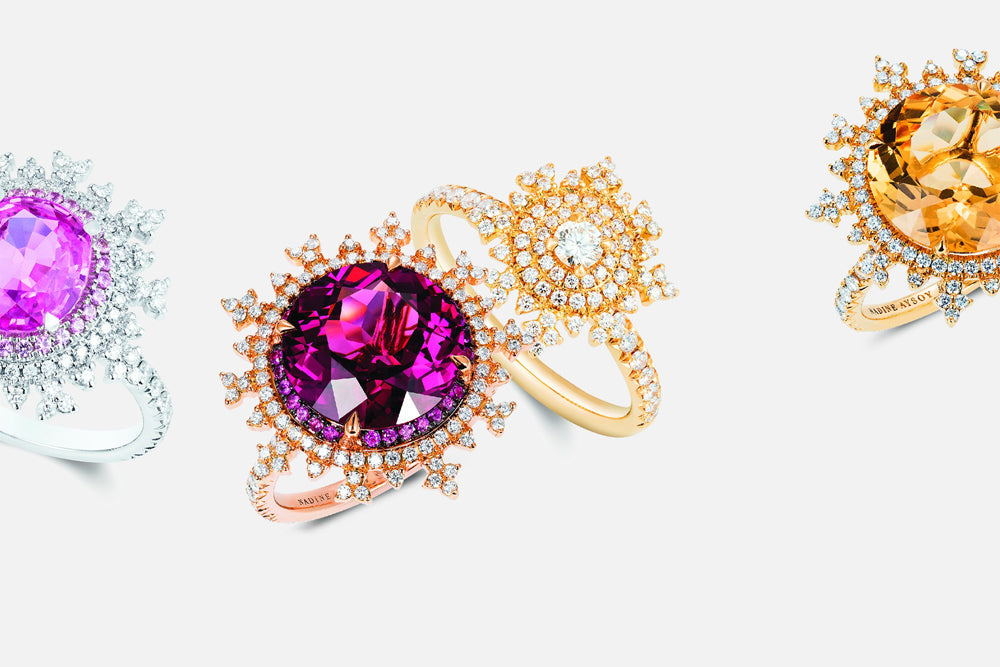 LMC: Can you describe your ideal customer and who would you most like to see as an ambassador for your brand?
Nadine Aysoy: My ideal customer is a jewellery lover and connaisseur who is not afraid to buy a designer and not only a well known brands and has a wish to combine both and becomes a returning client who buys into the brand .
I love the Americans for their adventurous taste and open minds and their love of jewellery.
The ideal for my jewellery brand would be to have a British international ambassador with a love for jewellery .
If you know someone please let me know !
LMC:  We are extremely excited to be featuring your new collection 'Celeste' and the iconic 'Tsarina' online at LMC. What inspired you to use white jade and which are your favourite pieces from the collection?
Nadine Aysoy: Jade is an expensive and luxurious material to work with and white jade had not been used that way before to give a chic and yet modern appearance.
The smooth discs are reminiscent of the Chinese lucky coin and white jade is said to have powerful healing energies.
I wanted to create a colourful and elegant yet young and fashionable collection with unique pieces .
I love earrings and bracelets and my favourite ones are the blues sapphire multi disc chandelier earrings as well as the pink sapphire multi disc tennis bracelet that I can wear casually with jeans and leather .
LMC: What advice would you give to an emerging designer launching a high-fine jewellery brand today?
Nadine Aysoy: That is a very good question but a tricky one considering the times we are in as we all don't know how things will evolve in the future. The most important thing is to have a plan ,will power and tenacity and use rejection as a stepping stone and not take no for a final answer .
Competition is fierce and there will always be someone better priced and more talented than you.
It is also important to have a budget for production to develop a good website and to invest product placement and some form of Pr with influencers as it takes time to be noticed as the market is saturated with so many brands .
Persistance and adaptability and creating an identity are crucial in a very unpredictable world where Jewelry might not be the ultimate luxury or priority for the moment .
It seems that consumers might be more concerned with their well being and investing in themselves .
LMC: We are entering a period of unprecedented change. Climate change and the need for more sustainable production and consumption is already affecting the jewellery industry as a whole. How do you think COVID-19 will further affect consumer behaviour and the way we shop?
Nadine Aysoy: It is a very interesting question and I would love to have a Crystal ball and be able to read in the future !
It will be crucial for brands to be visible and sell online and big efforts will have go to develop this aspect of the business .
It will also be crucial for department stores to develop and advertise online concessions as fewer consumers will attend the stores in the foreseeable future .
I have read reports that some Online stores have had more than 30 % increase in jewellery sales during the pandemic .
The consumers will continue to buy jewellery but the way will certainly be different .
LMC: What have you missed during lock down and what will you be looking forward to most as soon as it is lifted?
Nadine Aysoy: I missed my freedom of choices and  movement,  my son who studies in Los Angels ,  my team , dinners with my friend in restaurants , the theatre and the opera , art viewings, the gym and the travelling of course !
The first thing I will do is go the hairdresser and test myself to a manicure and pedicure !
Browse our Nadine Aysoy Fine Jewellery Collection online at La Maison Couture