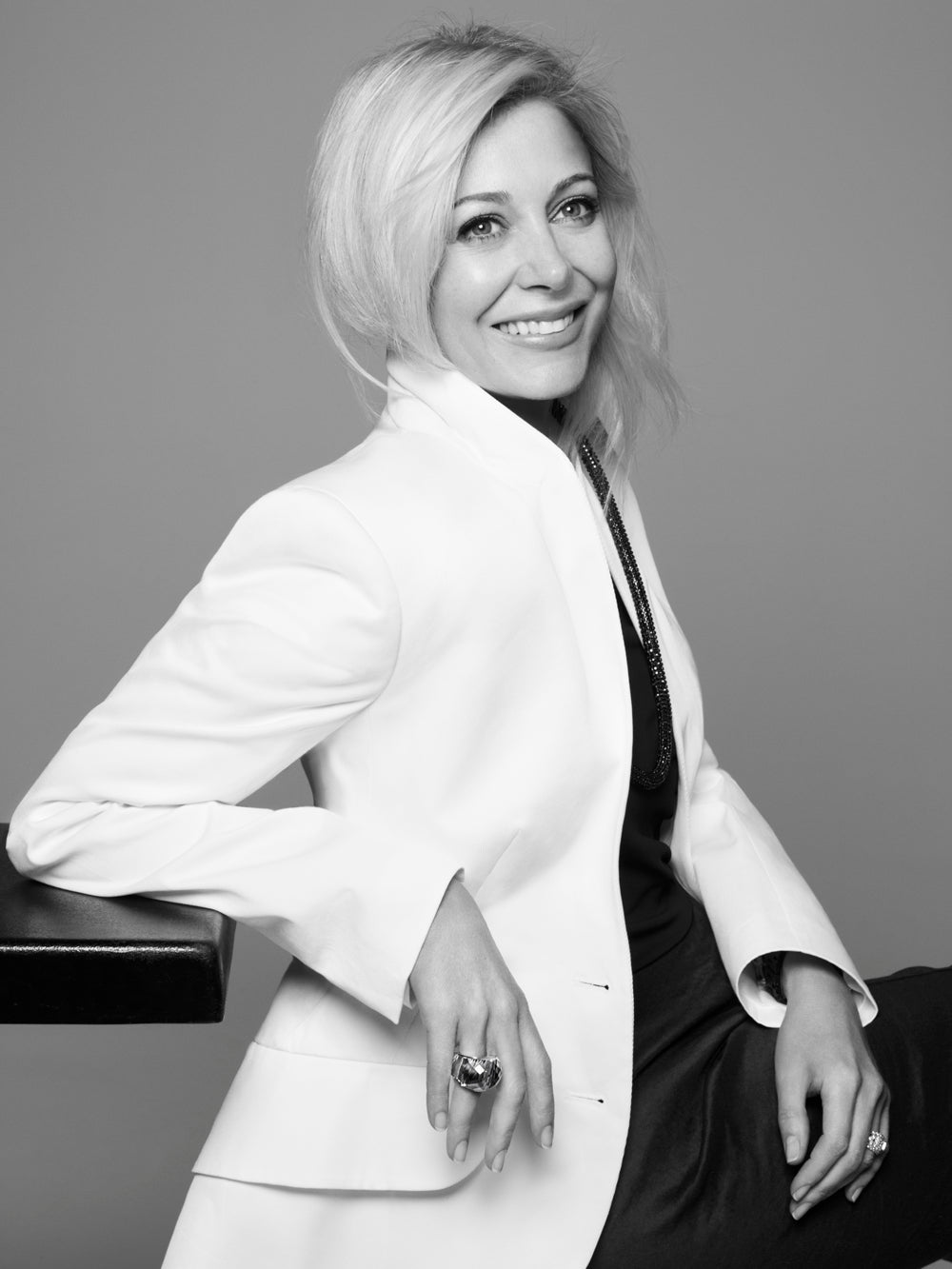 Q&A: In Conversation with Nadja Swarovski
We caught up with Nadja Swarovski, Founder of Atelier Swarovski and sustainability ambassador,  during COVID-19 lockdown to see how she was keeping business moving and to hear more about the brand.
LMC: Tell us a little about your life in lock down, where you are currently and how you are managing during these extraordinary times?
Nadja: First and foremost, I'm very lucky that my family is healthy and that we are all together, and my thoughts are with everyone who has been affected by this terrible situation. I feel very fortunate because my children are normally away at school, but right now they're at home with me in the countryside. Having every single meal together with my children and being there to help them with their studies has been such a blessing. I think we are also all feeling nature's relief during this period as we are giving it a break from pollution – it is certainly helping give me extra energy.
LMC: What has been the biggest challenge for Atelier Swarovski during the past few weeks and how have you sought to overcome it?
Nadja: The challenge has been communication when we are all in different places. However, what has been amazing in terms of work is the connectivity with colleagues and business stakeholders. In particular, I have really appreciated Zoom – to be able to see people's faces and also show PowerPoint presentations at the same time. It has also allowed me to continue being part of the wider conversation. I've been lucky to contribute to online panels with the German Fashion Council on sustainability and with the United Nations and Fashion Innovation to explore fashion's relationship with the UN Sustainable Development Goals and its response to the Covid-19 pandemic.
LMC: As an ambassador for sustainability, how do you think our current situation will have a positive effect on bringing about the behavioural change needed to tackle climate change?
Nadja: People and companies are being forced into better practices. I think what everyone is learning is that we can be completely effective without traveling. And people are also realizing that our current levels of consumption are both unsustainable and unnecessary. Both those factors will be very important in fighting climate change. At Swarovski we also understand that these changes are having a major impact on the fashion industry, where we are continuing to do all we can to help emerging talent to operate sustainably by supporting them with our own responsibly produced crystal product.
We have also been able to shift our charitable support in the short term to where it is most needed, by helping The Conduit and Paul Van Zyl's Fuel For NHS Heroes initiative in the UK and the Feeding America program in the United States."
LMC: When it comes to sustainable luxury – you have been quoted as saying "collaboration is crucial". You have collaborated with iconic designers from Lee McQueen and Jean Paul Gaultier to Christopher Kane, Peter Pilotto, Mary Katrantzou to name a few  – Why is collaboration important to your brand and what is the recipe for a successful collaboration?
Nadja: I think we are definitely in a new era of collaboration, not competition. It is crucial because it is not about withholding information – it's about knowledge sharing, especially with regard to sustainable practices. This is something we are driving forward with our Swarovski One X One program in collaboration with the UN Office for Partnerships and Slow Factory. We are teaming up incredible creative talents such as Mara Hoffman and Jason Wu with science innovators to create sustainable new products for the fashion industry.
LMC: Who has inspired you the most personally in the sustainability field?
Nadja: François-Henri Pinault at Kering has worked hard to shift the focus within his organization to more sustainable manufacturing, and has truly understood that the storytelling lies within the product. LVMH is also doing wonderful work, and I very much appreciate the sense of responsibility and accountability that major leaders in the fashion industry are now showing. In the world of entertainment, I was hugely impressed by Amanda Berry of BAFTA, who sent out this year's invitation encouraging the guests not to buy new clothes for the ceremony. And then of course there's Suzy Cameron, the wife of James Cameron, who has the Red Carpet Green Dress initiative during the Oscars in Hollywood. Suzy has also done fantastic work with her husband James on The Game Changers documentary and her One Meal a Day plant-based food campaign. I must also commend the work of institutions, from the Copenhagen Fashion Forum – which was the first major platform to talk about sustainability in fashion – to the design schools we partner with such as Central Saint Martins, FIT and Parsons, and also the efforts of MIT, Oxford and Cambridge which have fantastic sustainability initiatives.
LMC: Atelier Swarovski began with the principle of empowering women by providing them with an affordable alternative to diamonds. But as a brand you have gone so much further in terms of driving responsible business practices and your commitment to the environment through projects that protect both people and the planet – How did your most recent collaboration in support of the St Vincent and the Grenadines Environment Fund (SVGEF) for "The Sea Life Collection" by Catherine Prevost come about?
Nadja: The collaboration with Catherine Prevost came about because she's a great jewelry designer, and we share a mutual love for the island of Mustique. We decided to collaborate to support the vital conservation work of the St Vincent and the Grenadines Environment Fund which has been spearheaded by Ben Goldsmith and Bryan Adams."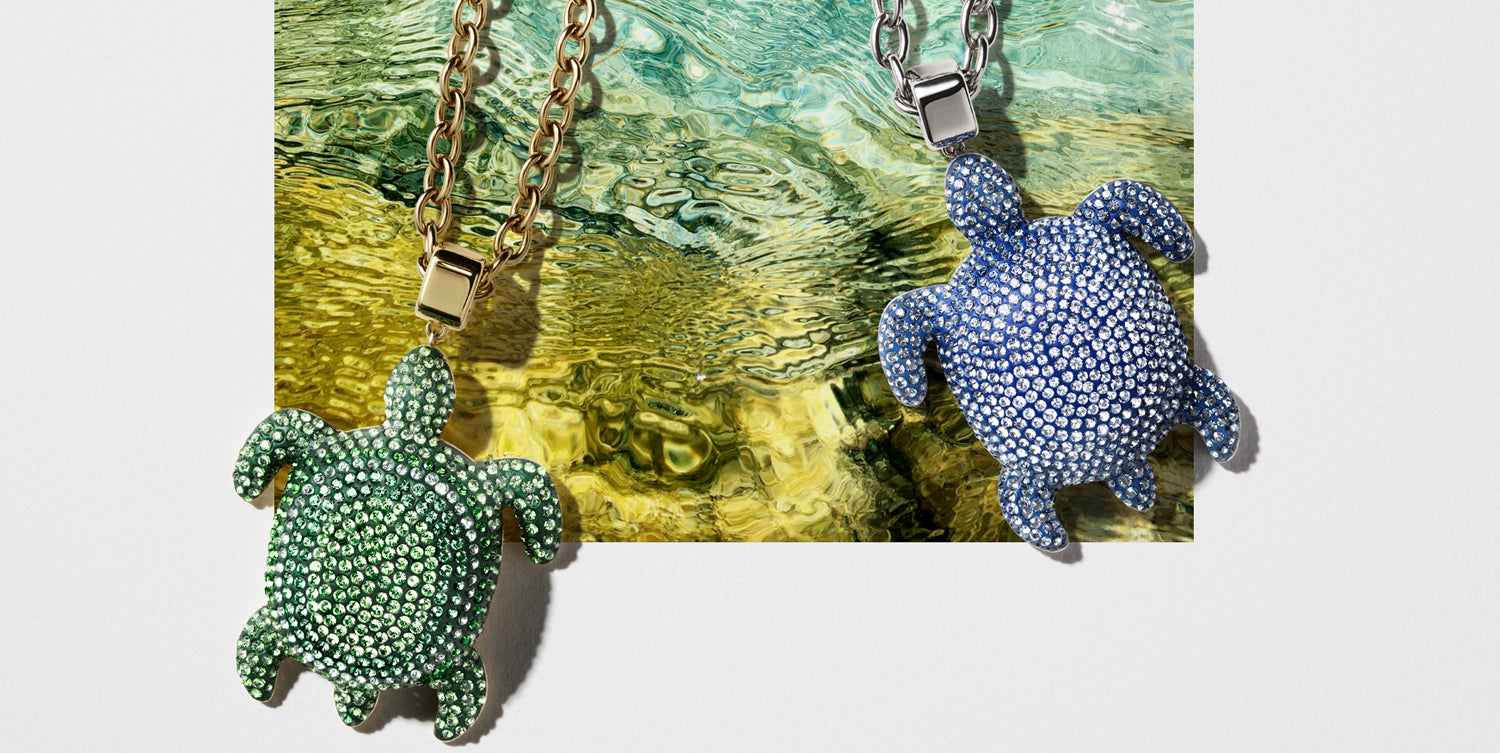 LMC: We are extremely excited to launch this collection online at LMC and also "The Beautiful Earth Collection" by Susan Rockefeller inspired by bamboo and the mammal with proceeds helping to protect giant pandas in China. What was it like working with conservationist and film-maker Susan Rockefeller on a fashion jewellery project?
Nadja: Susan Rockefeller has created a strong platform, communicating sustainable values with a particular focus on the oceans, but also farming. We were delighted to collaborate with her on the Beautiful Earth collection which supports the incredible environmental work of the Nature Conservancy, which is also one of our Swarovski Foundation partners, to preserve and protect the natural habitats of the Giant Panda in China. It is exciting to create jewelry products which promote positive causes, which are not just decorative, but also meaningful. And I think this kind of product will be the way forward in the future. To date, despite the COVID crisis, our Atelier Swarovski sales are above last year's, which is an indication to us that the customer wants to buy beautiful products that stand for something.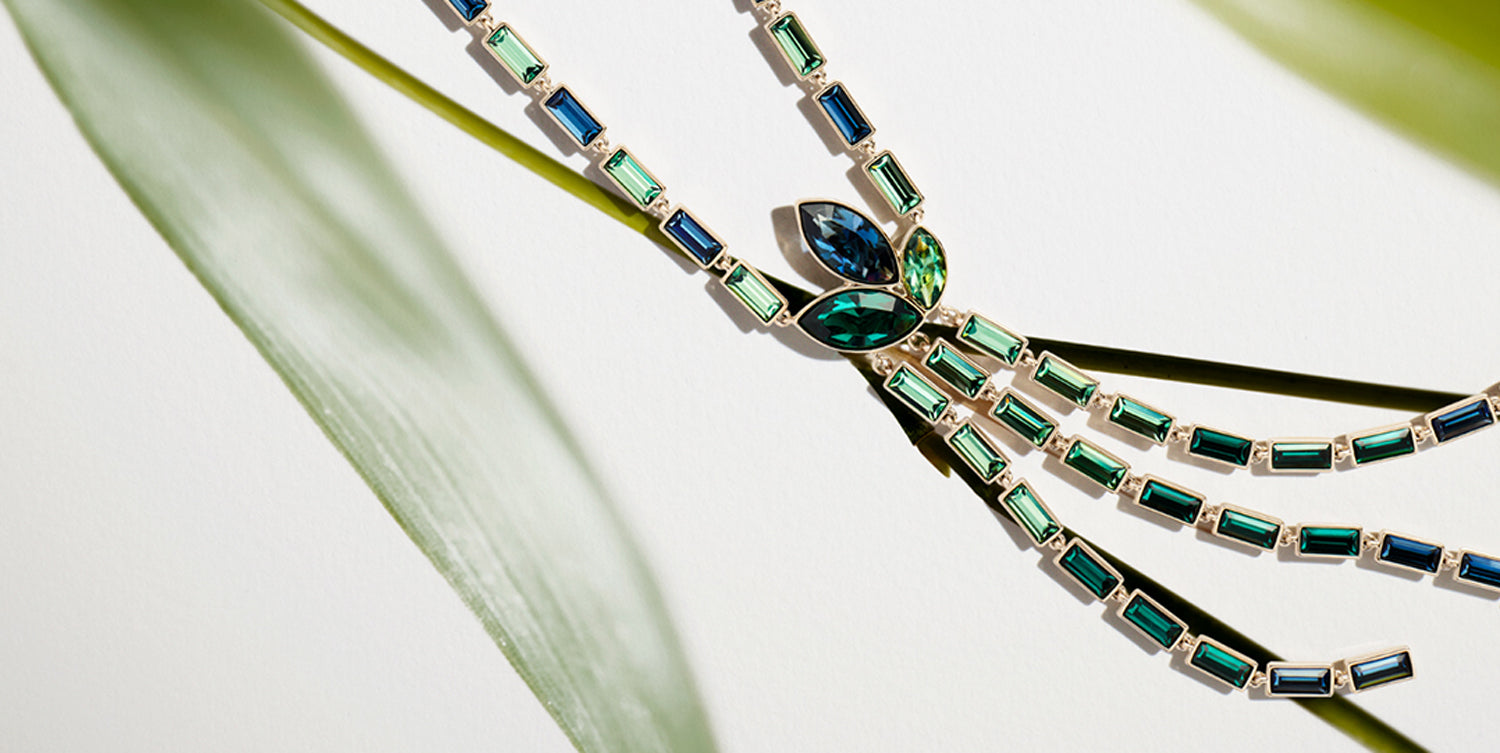 LMC: Can you tell us a bit about Swarovski's signature Pointiage technique? What makes it so unique?
Nadja: Our Pointiage resin replaces the metal traditionally used in pavé techniques, making the product lighter and more creative and versatile as we can make the resin in any available color."
LMC: What is the best piece of advice you have ever been given and what advice would you give to an emerging sustainable jewellery brand starting out today?
Nadja: The most important advice I would give is to think all the way through the process. Research up your supply chain to make sure everything you are sourcing is responsible and the practices around people and environment are ethical – transparency is vital. Then create a product which is not just beautiful, but which carries a message. Jewelry tells a story, so ask yourself – 'what is the story I want to tell?' When you get your product to your customer, think about the impact of packaging – does the consumer really need another big box? And the digital era provides an incredible platform for storytelling, both your brand's story and your interactions with your consumer – so make it personal.
LMC: What have you missed during lockdown and what will you be looking forward to most as soon as it is lifted?
Nadja: I have missed the energy of my colleagues and friends in the industry, and I have missed being able to give my friends a hug! However, I am excited to implement the lessons we have learned and the positive changes that we can accelerate once we are out of lockdown.
ENDS