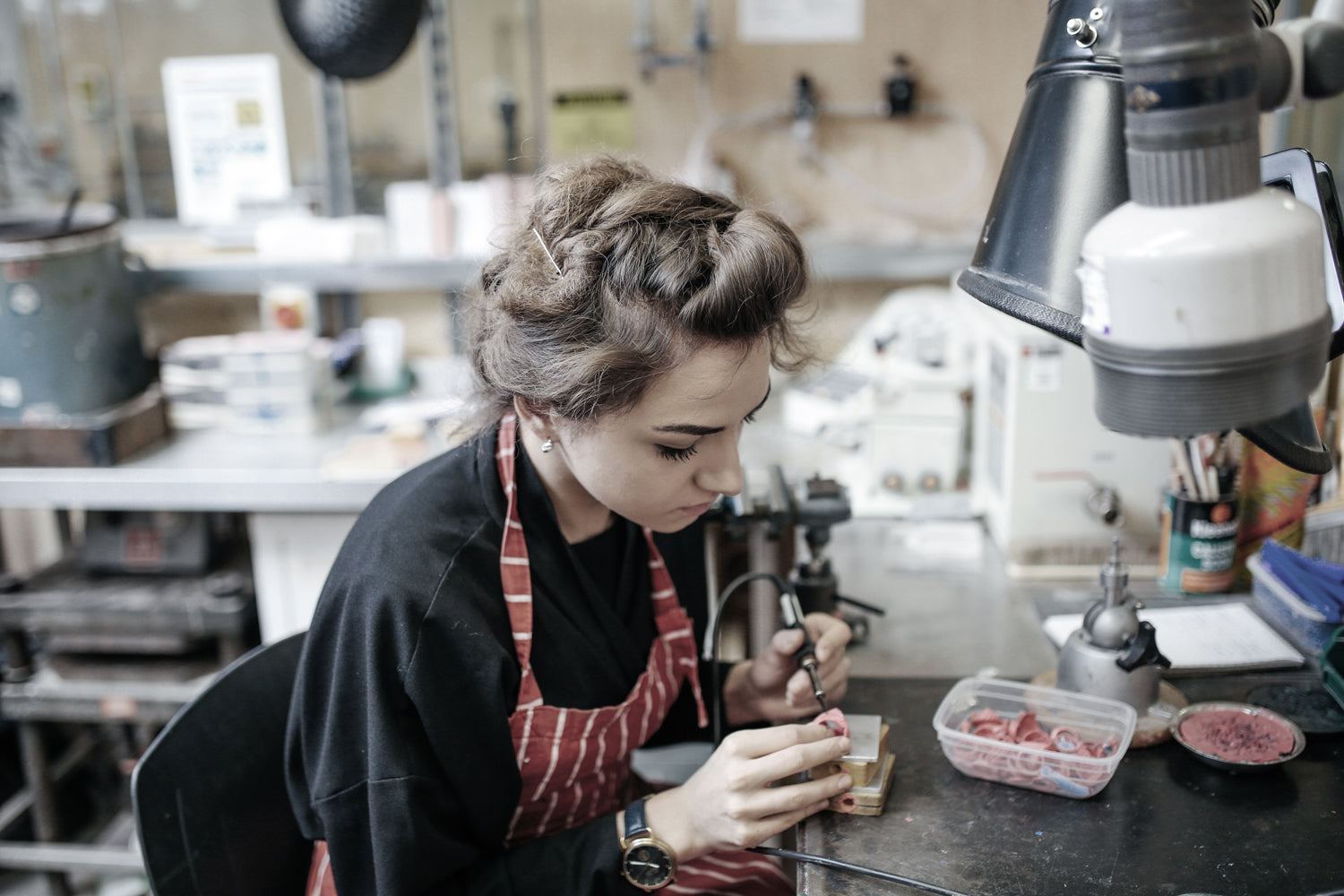 We talked to Ellis Mhairi Cameron, emerging Fine Jewellery designer, having just graduated from her MA at Central St Martins…
La Maison Couture:  Landscape and location seem so central to your design, are there any particular locations or medieval buildings in Scotland which are important to you or which have influenced your pieces?
Ellis Mhairi Cameron:  Where I am from in Argyll, Scotland, we are surrounded by a wealth of beautiful ruins and Scottish castles. Castles such as Dunstaffnage Castle, and further afield, Stirling Castle and Edinburgh Castle, have been very influential in my designs. I find the way in which erosion has affected the intricate detailing and repetitive forms of these buildings very appealing. I also take inspiration from the beaches of Benderloch in Argyll. These beaches were very much a part of my childhood and subsequently a source of visual inspiration for the textures you see in my jewellery pieces.
La Maison Couture:  Do you find that there is a tension between the natural and the manmade structures of the Scottish highlands and its medieval architecture?
Ellis Mhairi Cameron:  The culture of Scotland is very much influenced by our architecture; we have many important Scottish buildings and castles, which make up our history. I think that the landscape and the buildings work with, not against one another, as most castles were built to protect areas of Scotland from foreign invasion. I am very lucky to be part of a country which has such a rich cultural heritage. My ancestors can be traced back to the Medieval Period and the Cameron Clan has a hugely colourful past, which I greatly enjoyed discovering through my research.
La Maison Couture:  How do you think landscape and topography influence or maintain a sense of cultural identity for people living far away from the home of their heritage?
Ellis Mhairi Cameron:  I believe that the place where you are from helps shape your understanding of the world and its culture becomes ingrained within you. Today we live in a very nomadic society as it is easy to travel and move from place to place. Currently I live in London, which is obviously very different to the Scottish Highlands, yet I still feel very connected to the area which I grew up in.
La Maison Couture:  Your design draws directly from the history of the Scottish Highlands and Medieval Scotland, do you think that jewellery and fashion can impact the wider, perhaps global understanding of Scottish culture and tradition?
Ellis Mhairi Cameron:  I have clients who live in America and Canada who have historical connections to Scotland and for them, my jewellery acts as a bridge between where they live and their own heritage. Jewellery is such a personal thing, often hugely sentimental so it is very humbling to be part of someone's story in this way. I also meet a lot of people who have visited Scotland and they feel very connected to my jewellery because of their experiences of the Scottish landscape, which is really lovely.
La Maison Couture:  Why do you think it is important that jewellery connects with the past and with cultural identity?
Ellis Mhairi Cameron:  I think that it is important to know who we are as people and where we come from. Jewellery is ingrained in our history, regardless of location or culture, jewellery has been used to decorate and adorn our bodies since antiquity; used to signify love, allegiances, pledges, remembrance and aesthetic preferences. I spent a lot of time researching Scottish jewellery throughout the ages and it is interesting to see the patterns within the history of jewellery as there are themes and styles which reoccur. I wanted to take this information to create new pieces of jewellery which reference historical work but which are firmly placed within a contemporary context.
La Maison Couture:  How did you find the cultural shift from studying in Glasgow to London and did it influence your work?
Ellis Mhairi Cameron:  I completed my BA at The Glasgow School of Art in 2014, then taught for one year as an Artist in Residence in the Silversmithing and Jewellery department before starting a 2 year Masters in Jewellery at Central St Martins in 2015, which I graduated from in June 2017 with a Distinction.
My BA taught me a lot of technical skills; the tutors and technicians there are hugely knowledgeable. I was also taught about the importance of narrative and of storytelling through my jewellery. I decided to undertake the Masters at Central St Martins to take the skills I had learnt on my BA further and to really begin thinking about my love of jewellery designing and making and how to turn this into a business. The Masters course at Central St Martins really broadened my business knowledge of who my clients are, where they shop and how to reach them.
Both Glasgow and London have wonderful art scenes; although Glasgow is a much smaller city, it is full of interesting events and places to visit. Places like The Glasgow School of Art, The CCA gallery and bar and events like Celtic Connections (http://www.celticconnections.com/Pages/default.aspx)really make Glasgow a wonderful city.
London as a city is also an amazing place to be; each part of the city has its own identity and culture. Museums like the V&A and institutes like The Royal Academy are huge sources of inspiration for me as they are filled with so much knowledge. I have also just been accepted onto the Setting Out Programme at the Goldsmiths Centre which is an amazing opportunity to help push my profile as a jeweller and further my business.
La Maison Couture:  Does the handmade nature of your pieces affect your approach to design?
Ellis Mhairi Cameron:  As I am traditionally trained, I feel I have a strong understanding of how to visualise future ideas and designs. I love the physicality of making a piece of jewellery by hand; taking it from the initial sketches, into models and then into the final piece in gold.
La Maison Couture:  Do you think that handmade jewellery pieces have more inherent value than those made by machines and software?
Ellis Mhairi Cameron:  I think that both kinds of jewellery hold merit; it just depends on the aesthetics you are aiming for. I think designers like Jo Hayes Ward use both hand skills and CAD really well; her pieces have a beautiful refined aesthetic. I think Goldsmith's Fair is a great example of jewellers and silversmiths who use both CAD and hand skills to create really innovative pieces of work.
La Maison Couture:  When sourcing your materials, how do you ensure that they are ethically and responsibly sourced?
Ellis Mhairi Cameron:  I only use suppliers who can guarantee an ethical supply chain. My casters in London and Scotland ensure that the gold they use is ethical and for the most part recycled. I source my stones carefully, ensuring that stones such as diamonds come with the necessary certificates. I feel that I need to be aware of where all of my materials come from, in order to have an ethical and responsible jewellery business.
Quickfire:
Glasgow or London? Can't possibly choose! But my heart belongs to the Highlands of Scotland.
Fashion or Fine? Fine!
Theatre or film? Theatre!
Charles Rennie Mackintosh or Alexander McQueen? McQueen!
Shop the Ellis Mhairi Cameron Fine Jewellery Collection online at La Maison Couture