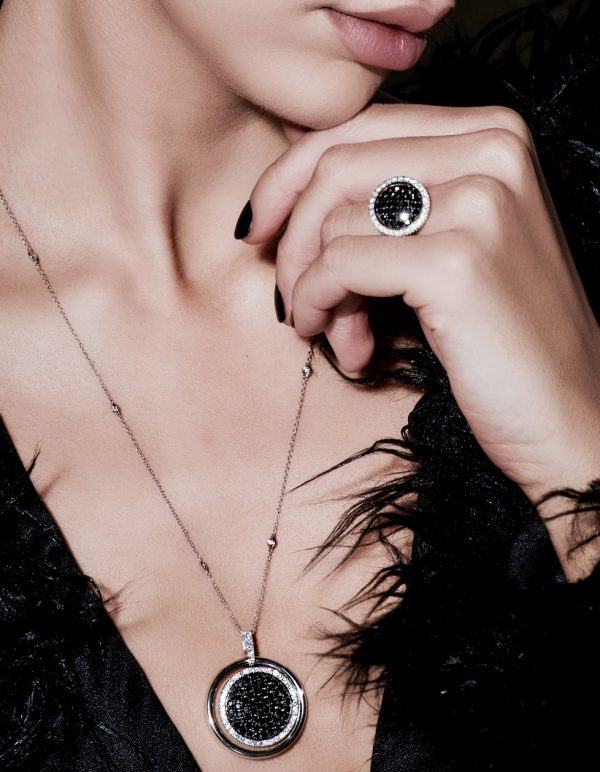 We talked to Helena Fine ~ London based diamond specialist turned jewellery designer, and founder of Olivia Grace, to find out what makes her tick…
La Maison Couture: After 18 years working as a diamond merchant, what was it that made you want to go into design?
Helena Fine: After 18 years working very closely with craftsmen, setters and mounters, I realised that I wanted to create my own beautiful jewellery range and I had the knowledge and confidence to do so.
La Maison Couture: How did your work as a diamond and precious stones specialist influence your approach to design?
Helena Fine: When I was selling parcels of diamonds to the fine jewellers of London's West End, I would observe the trends and styles in their glistening cabinets. Even on the tube, I'd observe what people were wearing, travelling to work.
Helena Fine: With the craftsman, I learnt about each kind of setting – for example, small emeralds and baguette diamonds were difficult to set as they could chip, which inspired me to create different ways of setting my own pieces. Now, I spend hours looking through different stones, cuts and designs on Instagram, Pinterest and piles of magazines.
La Maison Couture: Applying to the London Diamond Bourse sounds like an ordeal! Why was it so important to you that Olivia Grace was a part of this historic diamond market?
Helena Fine: I wanted to be part of a Professional Body that ensured a strict code of conduct to responsible trading, giving my business the ethical edge and credibility that is so needed in this industry. It also provides a safe and secure place for me to meet with clients.
La Maison Couture: What else makes Hatton Garden a great home for Olivia Grace?
Helena Fine: It's like a family to me – I've known the traders there for over 20 years. It was a no-brainer for me to house my business in London's world-famous jewellery district.
La Maison Couture: How has travel influenced your design, and which culture that you've visited have you found most fascinating?
Helena Fine: Travel is very important to me. It influenced my Venezia Sapphire Collection which was designed to evoke notions of the sunshine, water and glamour of the Côte d'Azur, Southern France –where I visited for over 10 years.
Helena Fine: I also remember very vividly, a wonderful trip to the Middle East, where I stayed in a Moroccan-style hotel – the colours were gloriously bold and bright. Behind every wall was a hidden and intricate mosaic – this inspired me to add hidden detailing into my designs, such as my Venezia Rose Gold Collection. I also learnt about the 'Flower of Life' whilst on the trip and this is the secret behind my designs.
La Maison Couture: You've mentioned your obsession with the jewellery worn by Elizabeth Taylor and Audrey Hepburn, how has the glamour of Hollywood inspired your jewellery?
Helena Fine: I love old Hollywood movies because the women in the films were feminine and glamorous. They wore bold, statement pieces of jewellery to feel empowered and beautiful. I want women to feel that way still.
La Maison Couture: Out of the celebrities you've worked with from the music and entertainment industries, who has been the most exciting and interesting?
Helena Fine: I would have to say Rod Stewart and Penny Lancaster because I spent nearly 6 months designing their perfect engagement and wedding jewellery. I even had to fly to Chicago to present them with four 10 carat, cushion-cut diamonds. I got to know them really well and gained an insight into their fabulous world.
La Maison Couture: Do you think that celebrities have a responsibility toward ethically sourced jewellery?
Helen Fine : The first question Rod Stewart asked me, 12 years ago, was 'do you deal in ethically sourced diamonds'. He was well ahead of his time!  Celebrities are important in pushing this message as they have the power of the press.
La Maison Couture: What morals or ideals are at the core of Olivia Grace?
Helena Fine: Ethical trading is most important – honesty, integrity and transparency when detailing with clients. I am always committed to obtaining precious stones and metals, and crafting our jewellery in ways that are socially and environmentally responsible.
La Maison Couture: How do you ensure that your diamonds and metals are responsibly sourced?
Helena Fine: As a member of London Diamond Bourse, we only deal in responsible and ethical trading. My craftsmen in London and Europe only use reclaimed gold as the most ethical source of that material. My diamonds are sourced from Namibia which only deal with alluvial diamonds – sourced from the ocean.
La Maison Couture: How has the jewellery industry in London changed in the last 20 years, do you think it has become more sustainable?
Helena Fine: It's certainly heading to becoming more sustainable. The Kimberly Process for example, is currently under review and new, rigorous standards are being put in place. Also, the customers are much more aware and interested in sustainability and that will drive standards.  I'm always looking at the latest developments in best practice.