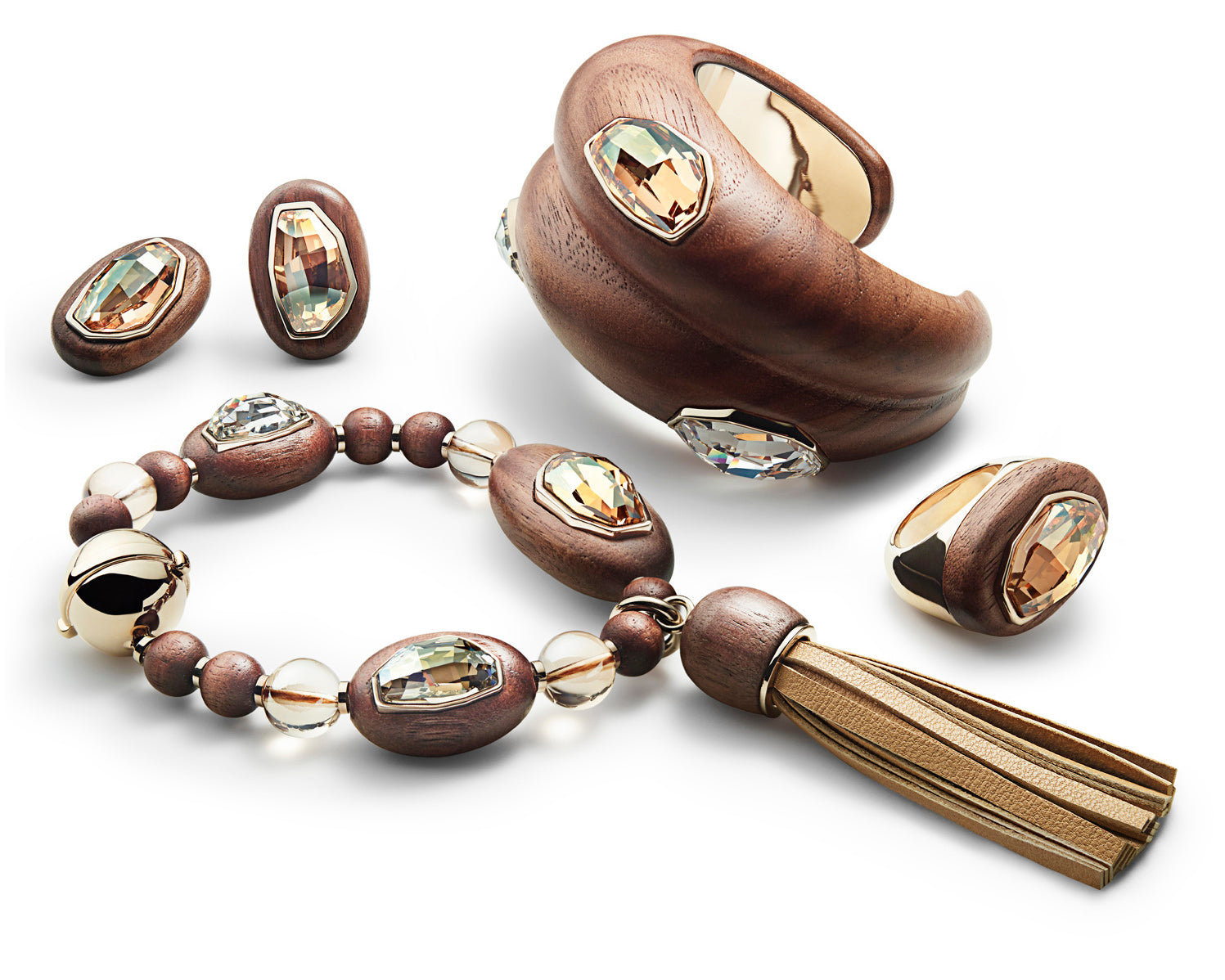 Hong Kong-based accessories designer Fiona Kotur teams up with Atelier Swarovski to create a unique jewellery collection based on traditional craftsmanship and the use of unique materials.  For Spring/Summer 2017 Fiona Kotur has created an eleven-piece collection named 'Wood Crystallized', which also includes a signature Kotur clutch: The Espey. Designed to reconnect the wearer with the natural environment, the pieces resonate with individuality and quiet strength.
This is the first time Atelier Swarovski has worked with wood, (the pieces are crafted out of walnut, set with sparkling tonal and multicolored Swarovski crystals) and we are delighted to feature a selection of this unique jewellery design collection online at La Maison Couture.
Read More about Fiona Kotur…
Fiona Kotur Marin is CEO and creative director of KOTUR. Born and raised in New York City, Fiona graduated from Wellesley College and went on to study at Yale and Parsons School of Design. After starting her career at Ralph Lauren designing hats, bags and jewellery, she later joined GAP for the launch of Old Navy. In 2002 she moved to Hong Kong and, in 2003, as original Founding Partner, Fiona helped Tory Burch set up her business and sourcing operations.
While exploring the region for boutique manufacturers, Fiona was inspired to start her business when she discovered a trove of vintage brocade from a former silk mill. Her first collection in 2005 – a limited edition line of brocade clutches combining retro glamour with various exotic elements – was picked up immediately by the world's most prestigious retailers: Bergdorf Goodman and Scoop in New York, Browns in London, and Harvey Nichols in Hong Kong. Celebrity fans of the brand include Scarlet Johansson, Kerry Washington, Kate Beckinsale, Emma Roberts and Kerry Washington, as well as style icons Lauren Santo Domingo, Amy Fine Collins and Anna Dello Russo.
In 2009, Fiona was recognized for her achievements in the accessories design space when she joined the Council of Fashion Designers of America. KOTUR has received honors from the International Design Awards and New York Design Awards, and Fiona has been named a 'Trailblazer' ambassador by Veuve Cliquot and was featured in Vanity Fair's International Best Dressed List.
Fiona lives with her husband and four sons, surrounded by her collection of handbags and accessories, while pursuing her interests in interior design, travel, and art.