"Audaciously Different" is not a term one would usually use to describe themselves, but for our next guest on The Stories We Wear: Tales From My Jewellery Box this is exactly how they would sum up their attitude to life. Multi-award winning jewellery designer, Myriam Soseilos has never played by the rules.  Having turned her back on family expectations in favour of pursuing a creative career, Myriam is renowned for her avant-garde jewels that push the boundaries of jewellery design through her transformable creations. Bold, unique, empowering are all words to describe both Myriam and her collections: 
"We believe in brave and bold. Never safe. We believe style should reflect the wearer – it should be a mirror for the soul."
Where are you?
I am currently in my hometown Nicosia, in Cyprus, for the summer months enjoying the warm weather and designing my new collection for 2024.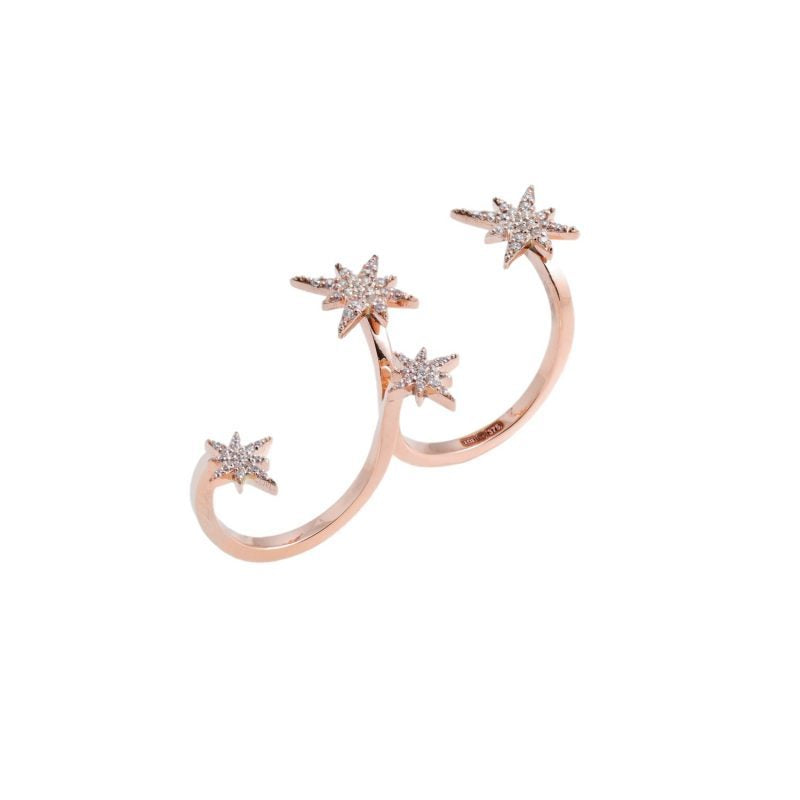 You are a multi-award winning jewellery designer, however, you came to jewellery later in life, can you share with us how this journal evolved?
I will start off by sharing a quote from fashion designer Diane Von Furstenberg that totally relates to me:
"I didn't always know what I wanted to do but I knew the kind of woman I wanted to be!"
My father, on the other hand, was really clear on what I would become: An accountant! He was the stereotypical Mediterranean patriarch: owner of a small business that wanted his children to follow in his footsteps. So my future was set, but I was living my father's dream not mine.
After studying accountancy in London, and hating every minute of it, I returned to Cyprus to face my father. Although I didn't know what I wanted to be, what I did know was that I didn't want to stay in a career that was not fulling me. 
It took a lot of guts for me at that age to stand up for myself and to the feelings of disappointment I caused to the family in the process. It may not sound much, but for me it was my first revolution against my defined future, against my father's dreams.
Careers in Fashion journalism, TV production and Advertising followed and it wasn't until I was 40 that I found my calling in jewellery design.
Where there challenges coming to the profession later in life? And surely lots of advantages too?
There were quite a lot of challenges! I was a 40-year-old working mother of a 3-year-old boy and couldn't draw to save my life! Once again, I had to go back to college and start from scratch. 
But for the first time in my life, I was enjoying the ride.  And of course I had experience from the business world, which I could translate into my new profession.
You have always followed your own path. You did a Ted Talk a few years ago and talk in detail  about following your guy and not to accept that anything is beyond your reach; where has this attitude come from?
I always had a rebellious streak that was subdued over of years. I found myself becoming a "bunch of fears" – fear of heights, fear of flying, fear of doctors – you name it!  But then one day I suddenly tabbed back into my rebellious self and channelled my creativity into design.
My advise to others is to embrace the magic of failure and never be afraid to bite off more that you can chew! Failure should not stop us.
We can't wait to hear about your jewellery, please can you share your first piece with us? 
It is my mother's wedding band. I imagine most can appreciate the sentimental value of it, even more so that it was given to me when my father passed away. I don't wear it every day but its memories are very powerful. I hope to pass this on to my son when the time is right. 
When starting out in jewellery, you have mentioned that women's jewellery needs to compliment the hectic lives of women, to be sculptural yet versatile, which sums up your next piece beautifully! Please can you share this with us?
This piece is from my Transformer's Collection, which I actually named after my son who adored the Transformers cartoon! The collection uses the power of kinetic jewellery in order for it to have multiple capabilities, reflecting the changing lives of women. 
I have been working on The Peacock Transformer for over two years and once finished, our aim is to have achieved technological innovation of kinetic jewellery, this time by using electricity.
The concept behind the piece is that is can be worn as a pendant, earring, ring and bracelet.
Your collections challenge the traditional views of jewellery – aside from the technical innovation involved in your pieces – what makes Myriam Soseilos jewellery so unique?
Myriam Soseilos is for the ones who dare to show their true selves. We get a lot of commissions, one-off bespoke pieces for special occasions, to mark a significant personal story, or just for the love of having something rare and unique.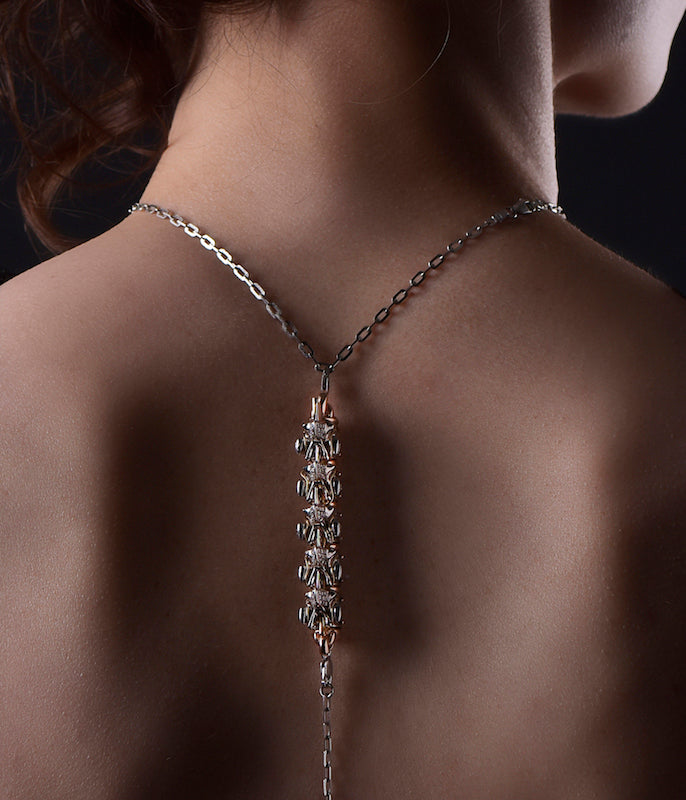 My most impressive bespoke piece is The Spine body pendant. The client was involved in a car accident, badly injuring her spine, and after providing me with MRI images, I designed a 6cm precise miniature copy of her spine in 18ct rose, yellow and white gold and white diamonds. To provide additional flexibility the chain was cut down into 6 identical pieces so that she can play around with it and have the flexibility of wearing it in any way that she wants according to her outfit. I also made a replica of her lips that can be worn as an ear cuff or along side The Spine pendant. 
Myriam Soseilos jewellery fuses innovative design with sustainability.
Talking about Sustainability, at LMC we are passionate about positively impacting people and planet through the jewellery we wear. You work with conflict-free diamonds, please can you explain what these are?
Conflict-free refers to diamonds that have not financed civil wars. Ethical diamonds are the diamonds that ensure fair pay, safe working conditions and environmentally sound practices.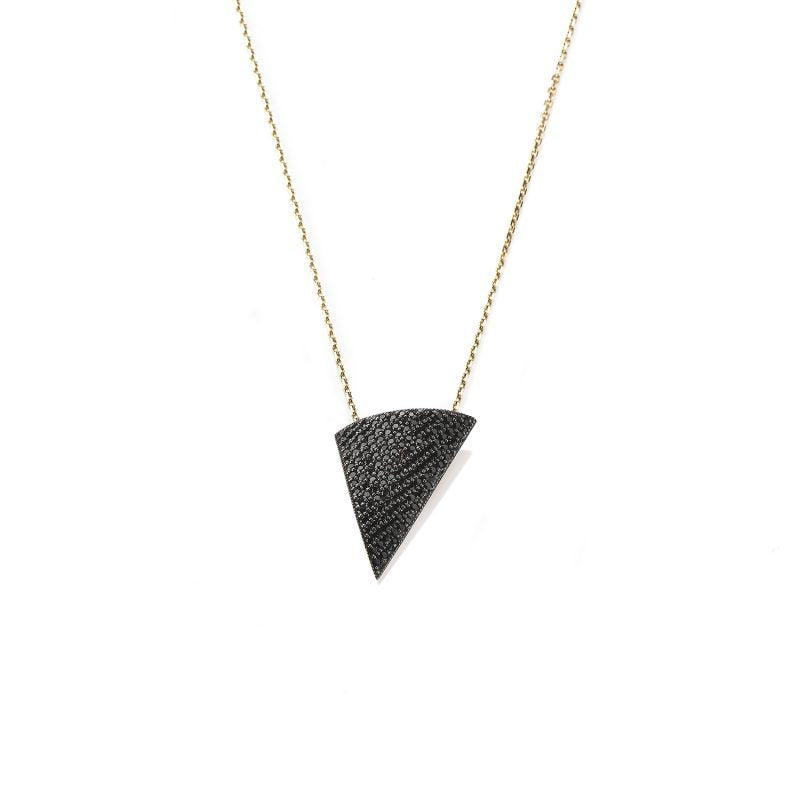 As a brand, we understand the impact we have on the environment and take every opportunity to reduce it. Our precious metal is recycled to reduce the ecological risk involved in mining new metal. We also clean and reuse gold dust from our workshop and upcycle old, forgotten jewellery. Our diamonds are obtained from conflict-free sources and we work with lab created diamonds that match the appearance, structure and durability of the natural gem – a sustainable option for the eco-conscious consumer. Our mission is to encourage our customers to 'Buy Better'.
Our Power Collection that you can find on the LMC website includes a ring, a pendant, a bracelet and a pair of asymmetrical earrings and these are the best-selling example of the materials that we use.
Due to being a small brand, we can adapt quickly and efficiently to both our and clients' wants and wishes to ensure we are working with and promoting responsible jewellery practices. We have been working with the same suppliers for years so have a trusting relationship.
Do you have any other examples of your own pieces that you can share with us? 
Yes! The Pomegranate Ring. For the Greeks the Pomegranate ​is a symbol of fertility, abundance, prosperity, and ambition so I wanted to design a Transformer piece from my Greek heritage. The idea for the Pomegranate ring came from a tree that we had in our back yard where I used to play with my younger brother when we were kids. I sat in my parents' back yard and came up with 2 sketches – one of a closed fruit and one of an open. And this is how I decided how the ring will transform. Despite the intricacy of the design it only took 2-3 weeks to make, some pieces can take months. 
The ring can be worn two ways, closed and open, and is made of responsibly sourced 18ct rose gold, white diamonds and rubies.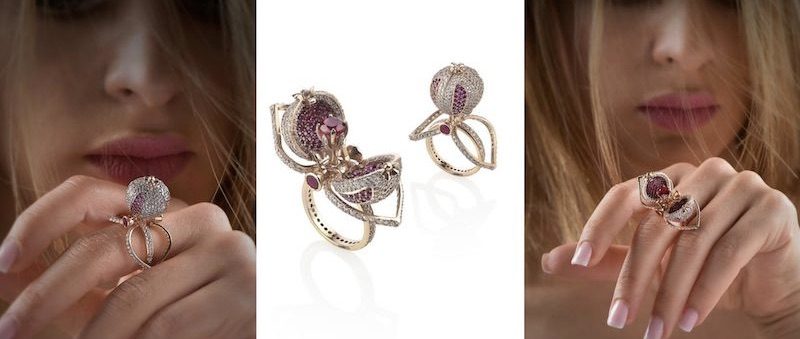 And for our final question, if you could design a piece of jewellery for any public figure, past or present, who would it be and why?
It would have to be Oprah Winfrey. I am not sure how many people are aware of this but she started off her career as a news reporter but was fired because she was considered "unfit" for television news. "You get in life what you have courage for" – She reminds me of my personal and professional transformation! 
Discover more of Myriam Soseilos
Listen to the full interview