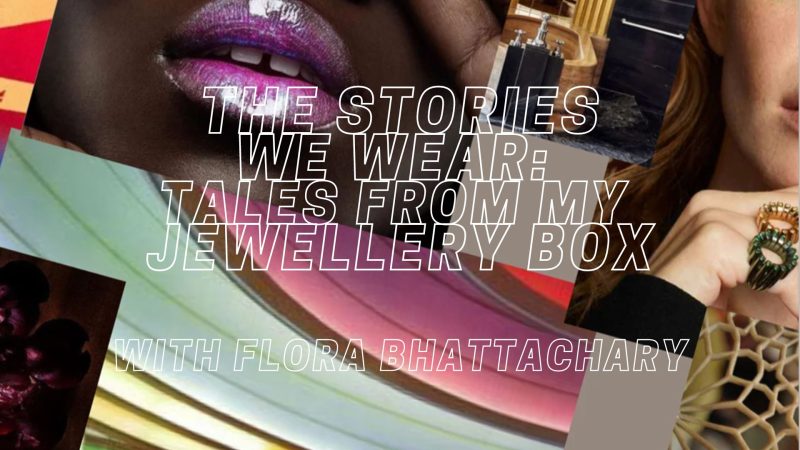 Flora Bhattachary has been setting the jewellery scene alight for a decade with her contemporary yet timeless jewellery collections. Inspired by her bohemian upbringing, childhood travels in India and her love of colour, Flora's work is a journey through her passions in art and culture – each piece realised in distinctive style.  Based at the prestigious Goldsmith Centre, close to London's Jewellery Quarter, Hatton Garden, Flora's multi-award winning accolades recognise her unique craft and talent, combining the ancient skills of hand wax carving, stone carving and setting, alongside innovative modern technology.
Using only recycled gold and responsibly sourced diamonds, and with a passion for gouache illustration we can't wait discover more about the influences that have shaped her career to date and her thoughts on building a responsible jewellery industry.
Let's begin by talking about gouache illustration. What is it and how did you become so interested in this particular kind of illustration?
Gouache is a kind of water colour illustration and it is what's traditionally used by all the high jewellery houses to paint in to show clients what the product will look like, once it is fully made. 
I have been lucky to receive some funding to enable me to take a bit of time out and to start to use my gouache skills, which I did learn at college. I studied the gouache illustrations that are held at the Goldsmith Library, which is an amazing resource, and I got to look at historic pieces, some of which are by Suzanne Belperron who is my inspiration; I worship everything she has every done! To hold a piece of her work in my hands was quite wonderful. 
From 2D illustrations to 3D jewels, please can you introduce your first piece of jewellery and the impact it has had on you.
This is a very tiny hand carved Carnelian bird that was given to me on an archaeological site in Taxila, which is on the borders of India and Pakistan. I was probably about four or five at the time and it was given to me by one of the people who was working on the site. I'm sure that it had a massive influence on me wanting to make jewellery; the idea that you could dig up at something precious from out of the ground that had been there for 1000s of years.
Your next pieces are similarly ones that hold great historical significance and are family treasures…
Absolutely, these earrings and pendant are from my grandmother, who inherited them from her grandmother.  The original box is dated from 1875 so they are Victorian and the diamonds are set in silver, which was the way diamonds were set in those days. They have a slightly Indian feel to them, which is obviously a theme within my work, and the fringe and shimmer of the stones creates wonderful movement. I wore them on my wedding day; they are quite statement pieces so I haven't worn them since but it's lucky that I have two daughters, one can have the earrings and the other the pendant!
They are exquisite and how wonderful that their story will continue through the generations by being adored and worn by your girls. We are excited to now learn more about your own collection. You have three pieces, all consciously made using the finest, sustainably sourced materials. Please can you explain more?
They are the Feather Hoop Earrings, Tahitian Dome Ring and Diamond Dome Ring, all made with recycled gold and designed around the peacock who travels with the goddess Saraswati, the Hindu goddess of knowledge. You can see the peacock feather inspiration particularly through the fan design of the earrings. This is the first collection that I made with recycled gold and the Saraswati inspiration was intentional; as the goddess of knowledge it is about knowing the materials that are in the pieces and understanding their significance and impact.

At LMC we believe the use of recycled materials is a top priority for the future of the jewellery industry and the planet. You work with recycled gold and platinum, what exactly does 'recycled' mean and why is it so important for you to work with this medium?
I think recycled gold is the bare minimum that designers should be using as gold is the ultimate recyclable material. It can be melted down and reused for generations without any quality degradation. My casting company are supplied by Omicore where 90% of their gold is recycled from industrial scrap sweeps, which is basically the sweeps from jewellers' work benches and industrial scraps along with industrial residue, and 10% is post consumer goods, such as mobile phones and computers, all of which contain gold. 
I think it is very important for designers to ask the casting companies about what they are using and where their recycled materials are coming from. It is very easy to use the phrase "Recycled Gold" but is it genuinely being recycled? 
At Flora Bhattachary we also offer fair-mined gold. I like working with fair-mined because it ensures artisanal and small-scale mining communities receive the best deal for their gold and the people and local ecosystems are monitored and protected. 
We would love to ask your thoughts on supply-chains. We appreciate that jewellery supply chains are long and complex, however you work with a tight network of craftspeople at the Goldsmith Centre. Can you give us some detail about who you work with and share your advice for others in the industry. 
I'm very luck that at the Goldsmith Centre everything is based under one roof, from the setters to the casting company, so I am able to witness first hand the conditions of the workers and to know that I am paying them fairly. I appreciate logistically that this is not possible for everyone but I think the key is for jewellers to just be honest about what their reality is; to clearly articulate to their clients what is actually happening. 
And what about the terms "Ethical Diamonds" and "Non Ethical Diamonds"; again another complex question but are you able to help us differentiate between the two?
This is an incredibly contentious issue. I think the key issues for me are how the diamonds are mined, the impact on the environment and whether the people working on the mine are paid fairly and have safe working conditions. We use Kimberly Process Diamonds which means that our diamonds are not sourced from a conflict area, ie the diamonds are not being used to finance wars.  We offer Canadian and Alluvial diamonds for bespoke designs where our clients are concerned to ensure that the stones are fully traceable.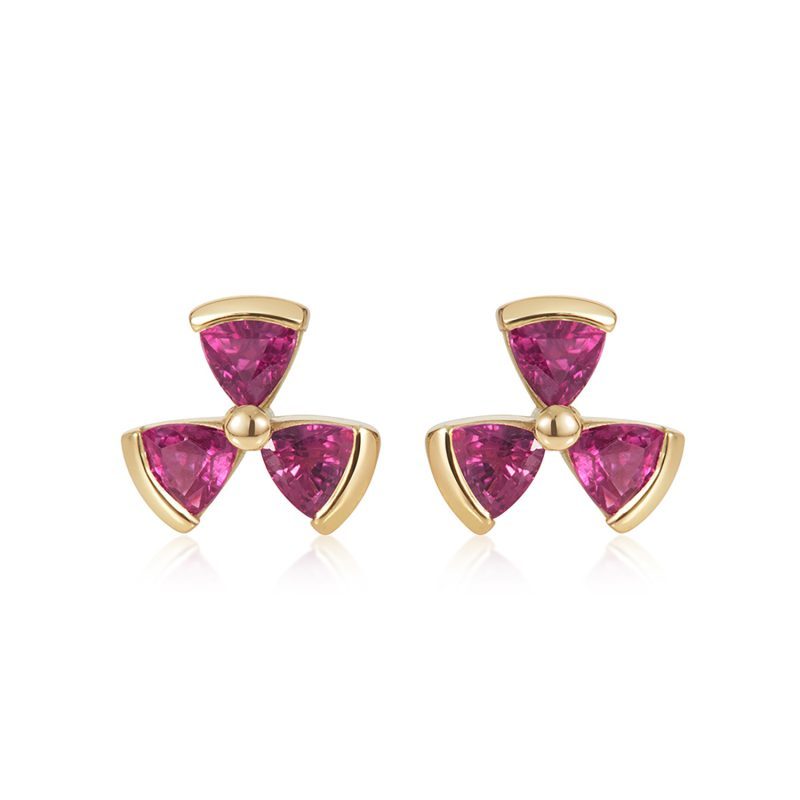 Back to your collection, what makes your jewellery unique?
I love pattern, which I think comes from my upbringing, so I try to always include an element of pattern within my designs. I also love colour so will quite often mix slightly unusual colours together, for example green emeralds with brown diamonds.  I mix colours together in a way that maybe others wouldn't, making the pieces visibly mine.
Cultural elements from my childhood and my life in London similarly play a big part in my work. From my love of house music and 90s rave to Art Deco antiques (my mum used to run a stall at Camden Market selling Art Deco antiques); these all inspire my designs.
It's now time for our last question which we like to ask all our guests: If you could design a piece of jewellery for any public figure, past or present, who would it be and why?
I think this is incredibly difficult! I really struggled with this one but in the end I chose Sade because I love her. I think she's absolutely beautiful. She's my generation but she also appeals to my daughter's generation, which I think is a great achievement. And she was educated at St. Martin's like me so there's maybe a kind of bond there. Maybe I could design a pair of statement hoops for her!
If you're reading this Sade – please get in touch!
Discover more of Flora Bhattachary's recycled gold collection
To listen to the full The Stories We Wear episode, visit our IG page