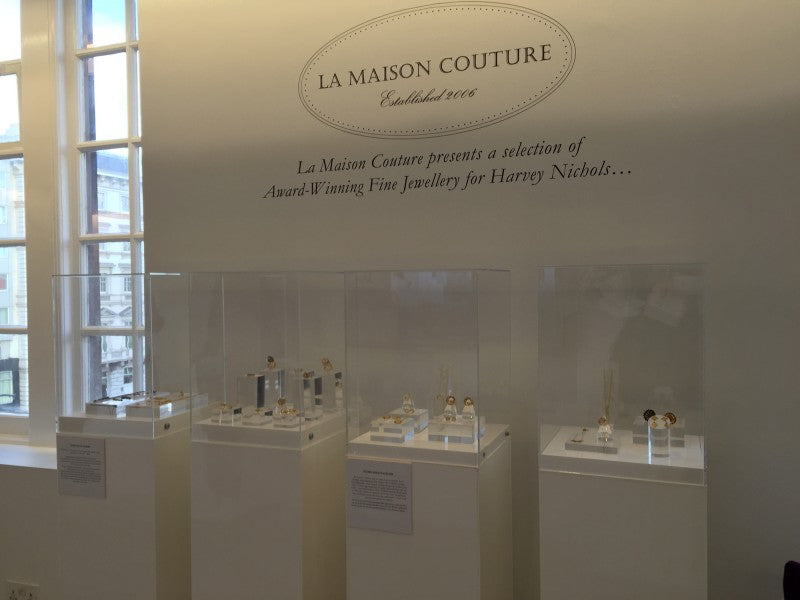 La Maison Couture presents a selection of Award-Winning Fine Jewellery for Harvey Nichols…
We are thrilled to have been invited to present a selection of award-winning fine jewellery in Harvey Nichols! Come and see us in style concierge on 3 and private shopping on 2.
At La Maison Couture, our philosophy is to source and promote the new jewellery talent of tomorrow to celebrate the pioneering vision and support emerging brands by offering retail exposure through our platform.
We aim to provide a unique curatorial edit of exclusive brands and fine jewellery pieces that are only available to buy online at La Maison Couture. With our experienced 'eye', we know exactly what we are looking for when it comes to sourcing the brands of the future, those who we recognise as having a unique design edge, exquisite craftsmanship and a fascinating story to tell.
The brands we have chosen to include in our exciting presentation at Harvey Nichols are jewellery bands whom we believe best represent our own vision and brand philosophy as well as being incredibly talented and unique award-winners themselves.
The presentation is a 'rolling exhibition' whereby our selection of brands will rotate each month, with new brands being introduced. We are delighted to be showcasing the following jewellery brands at Harvey Nichols:  Flora Bhattachary and Completed Works in style concierge on 3 and Dionea Orcini in private shopping on 2, which launched last week.
Here at La Maison Couture, we are overjoyed to be presenting exceptional, fine jewellery designers in the Harvey Nichols store. So if you're inspired by exquisite craftsmanship and beautifully manufactured jewellery, visit us in-store at Harvey Nichols or shop online at La Maison Couture.