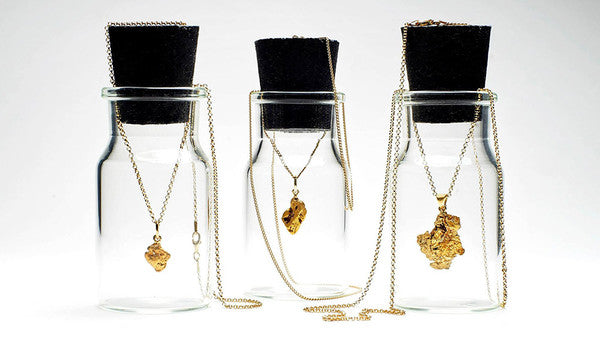 GOLPIRA – No Dirty Gold
GOLPIRA – 'No Dirty Gold' was founded in 2013 by Gisa Golpira from a desire to create unique fine gold jewellery pieces out of sustainable material – specifically, gold nuggets.
Born and raised in the rainforest of South America, by her parents who worked as sustainable gold diggers in the jungle of Peru, it is no surprise that Gisa has inherited not only a love and respect for nature, but an understanding of the importance of ethical gold mining and protecting the environment – it's in her DNA.
Having spent her early years growing up in contact with gold nuggets found in Papua New Guinea by her parents, it was her fascination with these unique pieces, formed naturally over millions of years, that ultimately inspired her to create her own jewellery label. After studying Fashion Technology in Dusseldorf, Germany and following a brief career as a model and fashion buying assistant in Berlin, Gisa's interests in handcrafted jewellery began to take shape and her jewellery brand Golpira was born.
Based in Germany, where Gisa spent her teenage years, the  Golpira jewellery label offers luxury, sustainable and unique hand made gold jewellery made with solid fair trade gold and enriched with precious fair trade gold nuggets. The collection which comprises of rings, pendants, chains, earrings draws inspiration from the 'poetic of the earth' and pays homage to the treasures of nature. Her signature, stylish and minimalistic designs, in Gisa's own words,  value style over fashion, tradition over trends and quality over quantity.
Dedicated to women in touch with their feminine power, the collection represents women as a fierce force of nature, confident, sexy, energetic and completely in their element…
In a world where small scale industries with unethical gold mining methods can seriously affect our environment, through the contamination of drinking water and land with mercury and cyanide deposits, and cause serious damage to indigenous communities, it is becoming incresasingly important that we  support jewellery brands such as Golpira to help them make a difference.
We are thrilled to represent Golpira as part of our Fashion Jewellery presentation at La Maison Couture…
Shop the Golpira – No dirty Gold collection