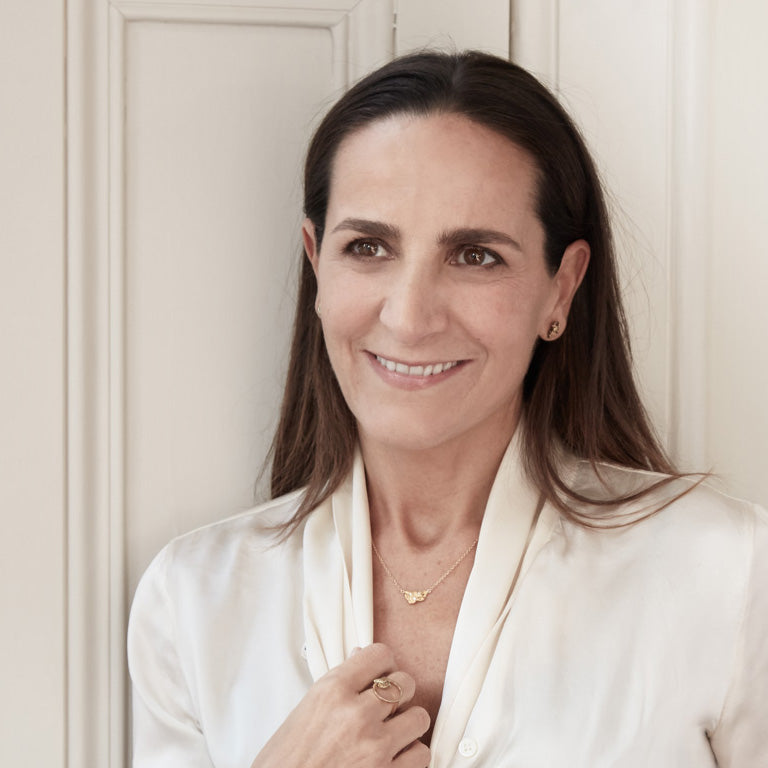 Whilst we are all still coming to terms with the impact of these extraordinary times. COVID-19 has given us a chance to slow down, reflect and re-connect with some of our amazing ethical brand partners. We took the opportunity to catch up with Daniela Colaiacovo, Founder of ethical Fine Jewellery brand MAKAL to take a deeper look at the foundation of her brand, the processes involved and what it means to be an ethical brand…
LMC: You pioneered the first ethical gold mine in the world at the beginning of 2000 in Central Honduras. What led you to do this and what impact did this have on local mining communities at the time?
DC:  I am the third generation of an Italian entrepreneurial family and the drive to make a positive impact in every sector we operate is in my family's DNA. When my family invested in a gold mine in early 2000, we knew that we wanted to do things differently. Long before most people were talking about sustainability, we built the first sustainable and ethical gold mine in the world. We didn't use any chemical (cyanide and mercury free); we recycled all the tailing materials and water; we focussed on biodiversity; and we legalised local artisans, including women. We did all of that because, as my father always said, "there is one rule about business: you need to protect what is around you first."
LMC:  Describe the extraction process and what is involved?
DC:  From the beginning, we made a strategic decision not to mine hard rock. Our mine was alluvial. That means that we were able to extract the gold directly from the river. We didn't mix mercury or cyanide with ore to capture tiny particles of gold; we used only water and gravity.  Two thirds of our production were industrial, meaning that we replicated the artisanal way of extracting gold by using a gravimetric process and only water.  The other third of the production was artisanal, where the gold was extracted by small-scale artisanal miners, who panned gold using traditional hand techniques.
LMC:  Can you explain what zero-waste extraction means and how you achieved it?
DC:  Most mines generate significant volumes of waste, including hazardous waste tailings that are left for mining communities to deal with. Apart from pioneering chemical-free processing, we also developed zero-waste extraction. That means that we recycle the water and reused the tailing materials, like gravel and clay. We sold the gravel for building construction and the clay to a local pharmaceutical company to make body and facial masks. We also pledged to replace any tree we felled to extract the gold with three more. There was more forest when we left than when we arrived.
LMC:  Why is the pursuit of chemical-free processing so important in the mining industry and to what extent do you think chemicals are still being used by small-scale artisanal mining companies?
DC:  Chemicals whether it is cyanide or mercury, not only damages the environment but also hurts human beings. A key part of what we did was to educate artisanal miners. I ran training programmes for our employees and our community to make them aware of the risk they were facing by using chemicals and giving them alternative ways of extracting gold.
LMC  Every jewellery brand has a story. What is the Makal brand story?
DC:  MAKAL is named after a river in Central America. We launched it to bring to the consumer my personal experience of developing and building the first ethical and sustainable gold mine in the world. We wanted to bring to life the most natural and organic pieces of gold, in the form of unspoilt gold nuggets; and transform them into unique pieces of jewellery, made the old way by Florentine artisans.
LMC:  Do you use any other materials and gemstones in your work and how do you ensure they are from responsible sources?
DC:  Responsible sourcing is crucial to our approach. We only use gold nuggets that come from sources who follow similar best practices. Our gold, diamonds and emeralds are all certified by Fairtrade or the Responsible Jewellery Council. Although a small company, we have an in-house sustainability officer with a 25-year international reputation. He investigates our suppliers, right up to the mine, to ensure that they follow the standards on which our brand was built. We are also a member of the Responsible Jewellery Council and next year we will be fully certified as a brand.
LMC:  Makal jewellery comprises of one-of-a-kind unique gold nuggets drawn directly from the mine. Can you describe the journey of that nugget, through the making process before it reaches the customer?
DC:  When I was in mining, I watched the nuggets being lifted by hand from the clear waters of the Honduran river. Since then, I knew that one day I would place them at the heart of an exquisite jewellery range. Most companies do not see the intrinsic value of these raw pieces of gold. I took these treasures and set them into unique Italian designs, aimed at the discerning customer who likes to be different and cares about where their goods come from.  At the end of the chain, the pieces are delivered in sustainable packaging in boxes that can be kept to store them.
LMC:  Every nugget has its own story. Does each design reflect the story of the nugget? How do you incorporate the story of each nugget into the design of the piece?
DC:  We study every nugget very closely, taking in its shape, colour and contours. This inspires us to find designs that accentuate the natural radiance and simplicity of each piece of gold. Our designs always draw on the origin of the nugget, as well as its individual appearance; and of course MAKAL's top priority – sustainability.
LMC:  Makal pieces are crafted in Italy. Can you tell us about the skilled craftsmanship and workers involved?
DC:  Being Italian, it was very important for me to be able to work with Italian artisans. Since the nugget is unique and each one has its own shape, it was also important for me to work with a manufacturer who understood my philosophy of keeping the stone untouched, but at the same time create thoughtful and elegant designs. All the pieces are hand-crafted and we try to develop the design around the nugget rather the other way round.
LMC:  How does the MAKAL brand empower women?
DC:  Mining is a male-dominated industry. But the number of talented female entrepreneurs in mining is growing and with it the benefits of the sector to workers, workplace and communities. Many of these pioneers need help to set up and run their own artisanal business. MAKAL is committed to providing personal mentoring, training in business and leadership skills; and enabling the capacity to improve working conditions and operating practices. MAKAL is building on two decades of engagement with women-led cooperatives and is committed to developing other empowerment programmes in mining communities in Central America and East Africa with like-minded development agencies and social enterprises. MAKAL is also a majority women- owned, led and founded business.
LMC:  What advice would you give to jewellery designers who are trying to build a sustainable brand and source their materials responsibly.
DC:  Be inquisitive and ask questions about the provenance of everything you buy or every material you work with. Do your own research beforehand and set your own standards and stick to it. And come and talk to me: I am always delighted to meet talented new jewellery designers who share our values.
LMC:  How does purchasing a piece of Makal jewellery support the workers along the supply chain and help champion ethical production in the jewellery industry?
DC:  MAKAL will promote three positive influences. First, small-scale artisanal extraction of precious materials and jewellery manufacture – helping local artisans become successful entrepreneurs and business owners. Second, the empowerment and protection of women in these roles; helping them to become licensed and trained to run successful businesses. Third, the positive role of mail-to-order and bespoke commissions rather than mass production and stockpiling.
View the Makal Jewellery collection available online at La Maison Couture.