Looking good and doing what's best for the planet doesn't have to be a compromise; in fact, to succeed in today's climate, Style AND Sustainability are a must. We are therefore delighted to share with you some of our community who are rocking this brief: trail-blazing brands who are using  RESPONSIBLY SOURCED MATERIALS combined with a heavy sprinkling of WOW!
Maviada is an international luxury jewellery brand born out of designer Eda Elbirlik's passion for beautiful objects and a love of jewellery. Maviada (meaning 'blue island') is inspired by the casual chic, relaxed lifestyle of the Mediterranean and Eda's heritage growing up in the turquoise waters of the Aegean Coast.  Each collection is created using semi-precious stones in classic fresh designs using 18ct gold and vermeil
What are your favourite LAYERING PIECES this festive season?
Layering has been popular for a while now. We love layering our Skopelos necklaces. They come in two fantastic sized gemstones and layering them together gives a contemporary playful look. We love that clients can mix and match the colour they want with the finish they want. This is such an ON TREND look – we are so delighted that our clients mix and match them in their own style. 
What advice can you share that will inspire consumers to buy jewellery more SUSTAINABLY?
I think everyone in today's world has a social responsibility to be more sustainable – our world is just so fragile at the moment. I was just on a panel speaking about sustainability and legacy and how jewellery fits into this world. We discussed these topics in detail.
When consumers are buying from a jewellery brand, they should be asking themselves:  What is this company doing to make our world a better place? Are they aware? Are they authentic? There are a lot of jewellery brands out there, paying lip service meaning they say the words, but are they really doing anything else? What are their values? It's not realistic to expect small luxury brands, or any brand, really,  to change overnight but we are always asking ourselves, HOW CAN WE BE BETTER – it is a slow process, not perfect, but every little bit helps out.
We are proud of our commitment of using 100% recycled gold since 2021, we only source ethically sourced gemstones with businesses who adhere to fair working conditions and as a women led jewellery business owner, we try to work with other women led businesses. We also use recyclable outer gift boxes for our jewellery.  Some clients solely ask for our suede travel pouches and forgo the boxes in order to save waste.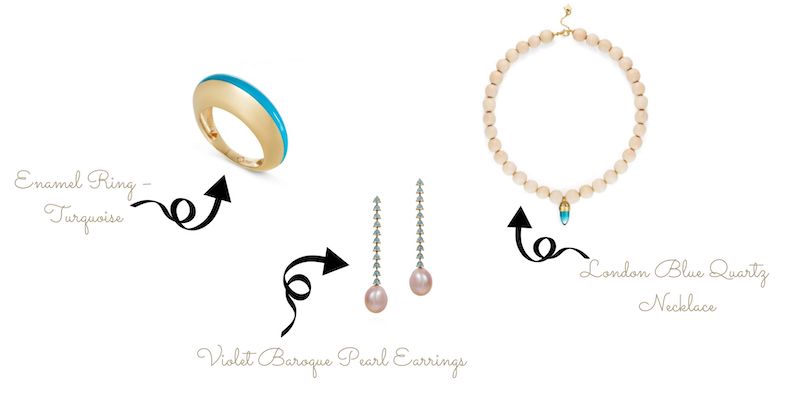 How do you want your customers to FEEL when wearing your jewellery?
Oh that's  an easy one! At Maviada, we want our clients to have that "happy feeling" –  the feeling  you get when you are on holiday with the sun hitting you on your golden face, sitting by the sea, reading a book.  When one is on vacation, one has that "relaxed glamour" vibe,  feeling joy, inner calm and confidence, all at once.
Jewellery should make you feel empowered, confident but also happy and joyful. Jewellery purchase is such an emotional purchase – we are seeing more and more of our female clients buying for themselves – whether that be celebrating a promotion, buying themselves a birthday gift, or self treat purchase. Women no longer need to wait for a special occasion to request a new piece of jewellery. If they want it, they buy it, then and there. It's really great to see this NEW PURCHASE POWER that women have – we want women to succeed because when they succeed, the world is a better place. Women feeling empowered, self confident, wearing a beautiful piece of jewellery that shows craftsmanship, is design led, all play a part in how one is perceived.  Women want to feel special and unique.