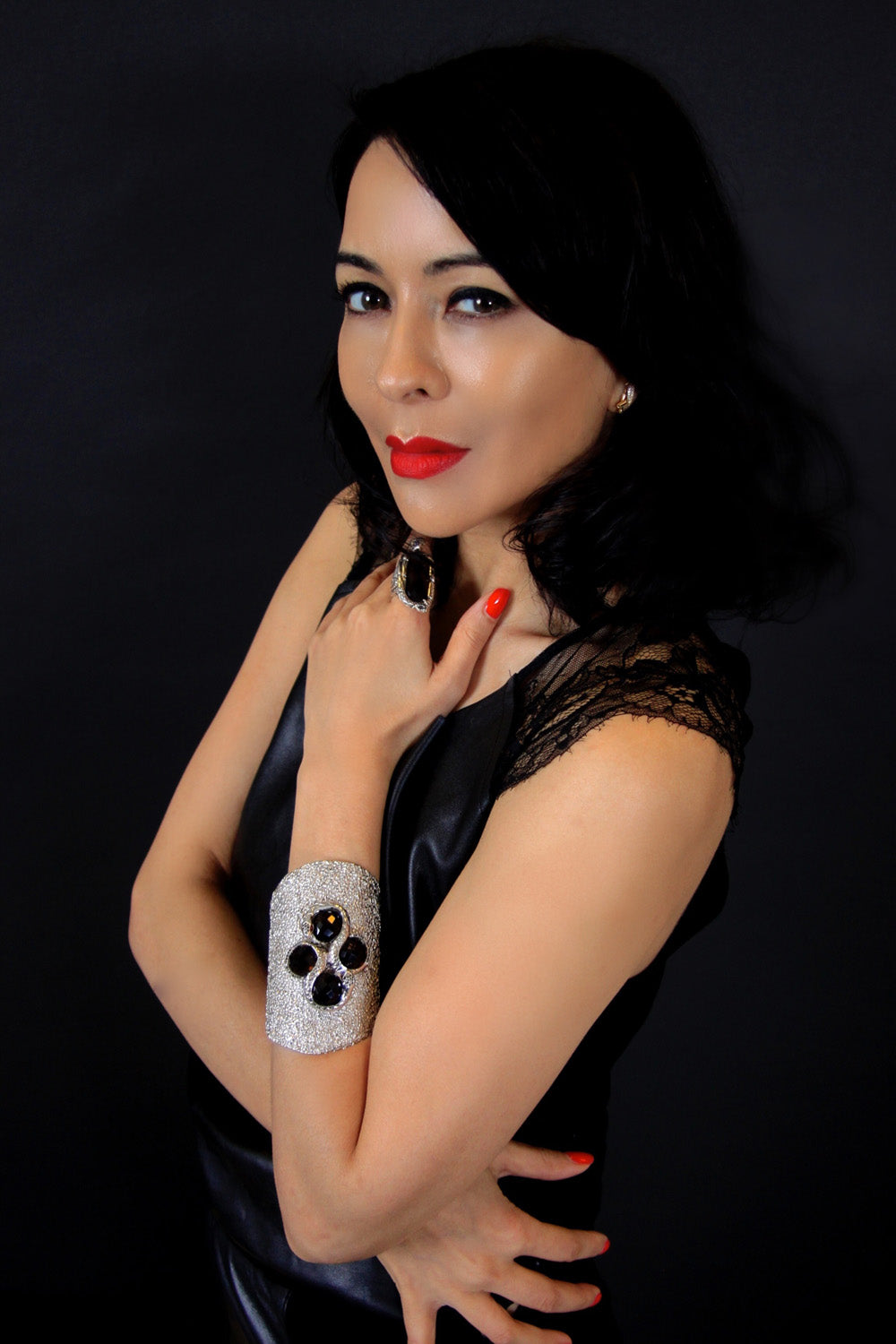 Read our interview with Mayuri Vara, designer and creative director of fine jewellery brand Vara of London.
La Maison Couture:  What is your brand philosophy?
Mayuri Vara: To create timelessly elegant artistic statement jewellery. Versatile pieces to be adorned from day to evening.
La Maison Couture: What kind of person wears your jewellery and why?
Mayuri Vara: A self assured women with a strong sense of style, she understands style is a visual narrative to her personalty. And jewellery very much personified this. Our clients are international from all walks of life.
La Maison Couture: Your collection brings together many different influences, from your Indian Heritage, your upbringing in London and your current life in Hong Kong – is jewellery an important mode of self expression for you? How does your life feed into your work?
Mayuri Vara: Jewellery is a work of art. When designing the collections I draw on architecture, artworks and culture. The inspirations behind the bamboo collections is drawn form  Chinese architecture in Hong Kong. And so my designs are a love of my surroundings, as well as an expression of beauty.
La Maison Couture: The women who you cite as your muses, Elizabeth Taylor and Anna May Wong to name a couple, exude a classical Hollywood glamour. Is there someone working today who you feel emanates a style that is synonymous with Vara of London?
Mayuri Vara: I have love for old Hollywood glamour, timeless elegant style with a contemporary edge, adorned by strong women.  And this is the era of strong women role models as seen in many walks of life from business to politics. Vara of London is statement jewellery, reflecting the elevated status of modern women in our society.  Muses today are women of style & strength such as Angelina Jolie, Charlize Theron & Michelle Obama.
La Maison Couture: The characters and places that inspire you are international and wide reaching. Is it important to you to make something that many different kinds of women can aspire to?
Mayuri Vara: My London upbringing, currently living in  Hong Kong, together with my North West Indian heritage and British background gives me a global one world view point. I've always taken the best of these influences and blended them into my lifestyle, which is true of many women today.
La Maison Couture: There are a lot of natural motifs in your work, from bamboo, to roses and even snakes. Do these hold significance? Or are they more emblematic of a mood?
 Mayuri Vara: The pieces are works of art and symbolism is connected to this. The bamboo pieces are a reflection of strength held in Chinese culture, the Roses are taken from the Tudor roses a floral heraldic emblem of England. Snakes are sultry expression of beauty and good fortune, known as the black dragon in the Orient, serpent adorned by Cleopatra portrayed by Elizabeth Taylor.
La Maison Couture: As a designer, how do you approach the ethics of luxury and what do you do to work sustainably?
Mayuri Vara: We ensure the origin of our materials and gemstones, and diamonds are conflict free and GIA certificated. And our moulds are reused in house.
La Maison Couture: What are your favourite materials to work with and why?
Mayuri Vara: I love working with coloured gem stones and black diamonds as they are very elegant when paired with the artistic bold designs in both silver and gold.
Quick Fire:
Dress up or dress down?  Dress Up!
East or West?  West
Street Style or Red Carpet?  Red Carpet
Loren or Monroe? Always Loren
Shop the Vara of London collection at La Maison Couture