Q&A: In Conversation with ~ Azza Fahmy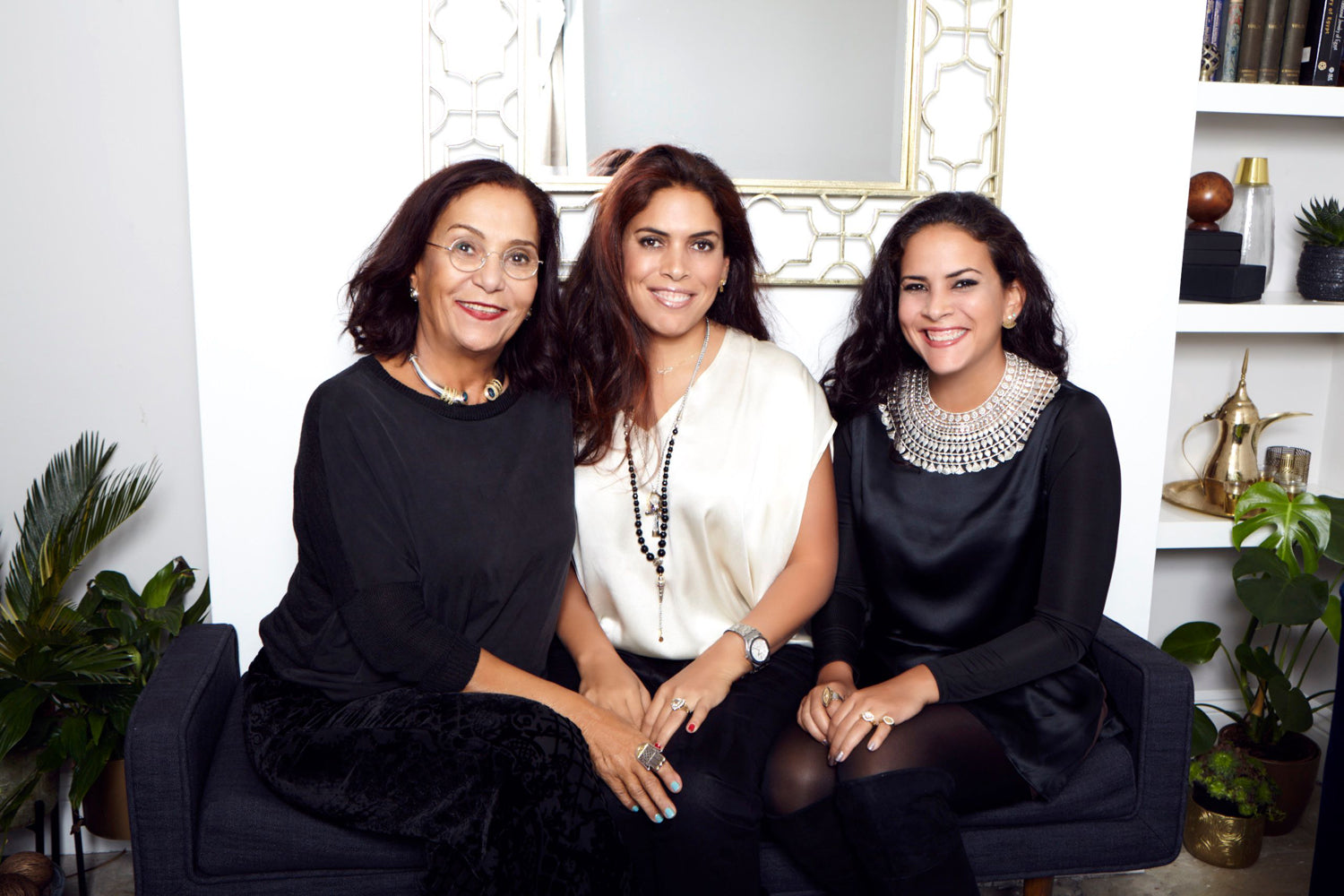 We were excited to have the opportunity to catch up with Azza Fahmy and the team during "lockdown" to hear how they were keeping business moving during this difficult time, and to learn more about their brand story,
Sisters Amina Ghali, Head of design and Fatma Ghali, Managing Director at Azza Fahmy gave us some of their valuable insight and a fascinating glimpse behind the scenes..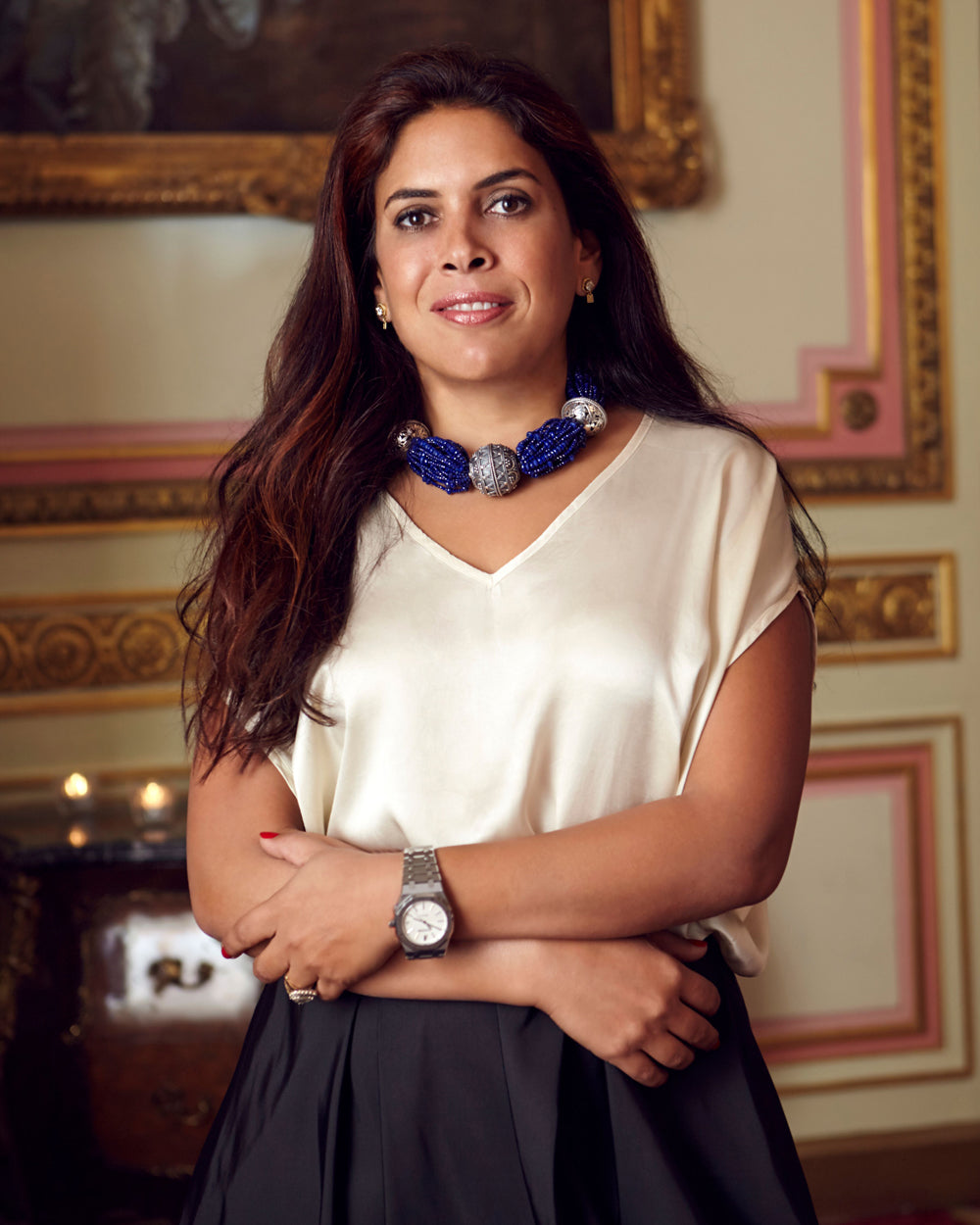 LMC: Tell us a bit about life in Cairo since the outbreak of COVID-19 and how the local community has been responding to lockdown measures in the city?

Fatma: There has been a partial lockdown for the past two months, while schools and Universities remain suspended. Various cultural sites have been closed off and are currently undergoing disinfecting measures, such as the Egyptian Museum and the Giza Pyramids.
Here at Azza Fahmy jewellery, just like most of the private and public sectors, we have implemented the governmental instructions for employees to work from home, while for craftsmen at the workshop we cut down their number to a minimum and maintain sanitisation measures.
LMC: How has Azza Fahmy been affected and how are you managing to keep the business going through these difficult times?
Fatma:  It's very important to focus on cash flow: having different scenarios and an action plan for each one. Managing your expenses is key, try to focus as much as possible on what is essential, kill anything that is non-essential for now. Being flexible and agile in times of a crisis is a must. We had to prioritise our production given that we shrunk the number of workers (only for the time being) and we could no longer produce the volume that we had originally planned.
We had to get creative with minimal budgets and focus on digital, one of the examples is that we created an online personal shopper service. We help our clients to pick their pieces throughout digital platforms at their comfort at home and we make sure to provide an easy process.  It's the time when its also really important to collaborate and support each other. And to being transparent and good communication internally.
LMC: Born into a renowned jewellery family, technically jewellery is in your DNA. Can you recall a moment when you realised your passion for jewellery? Was your passion inspired by your mother?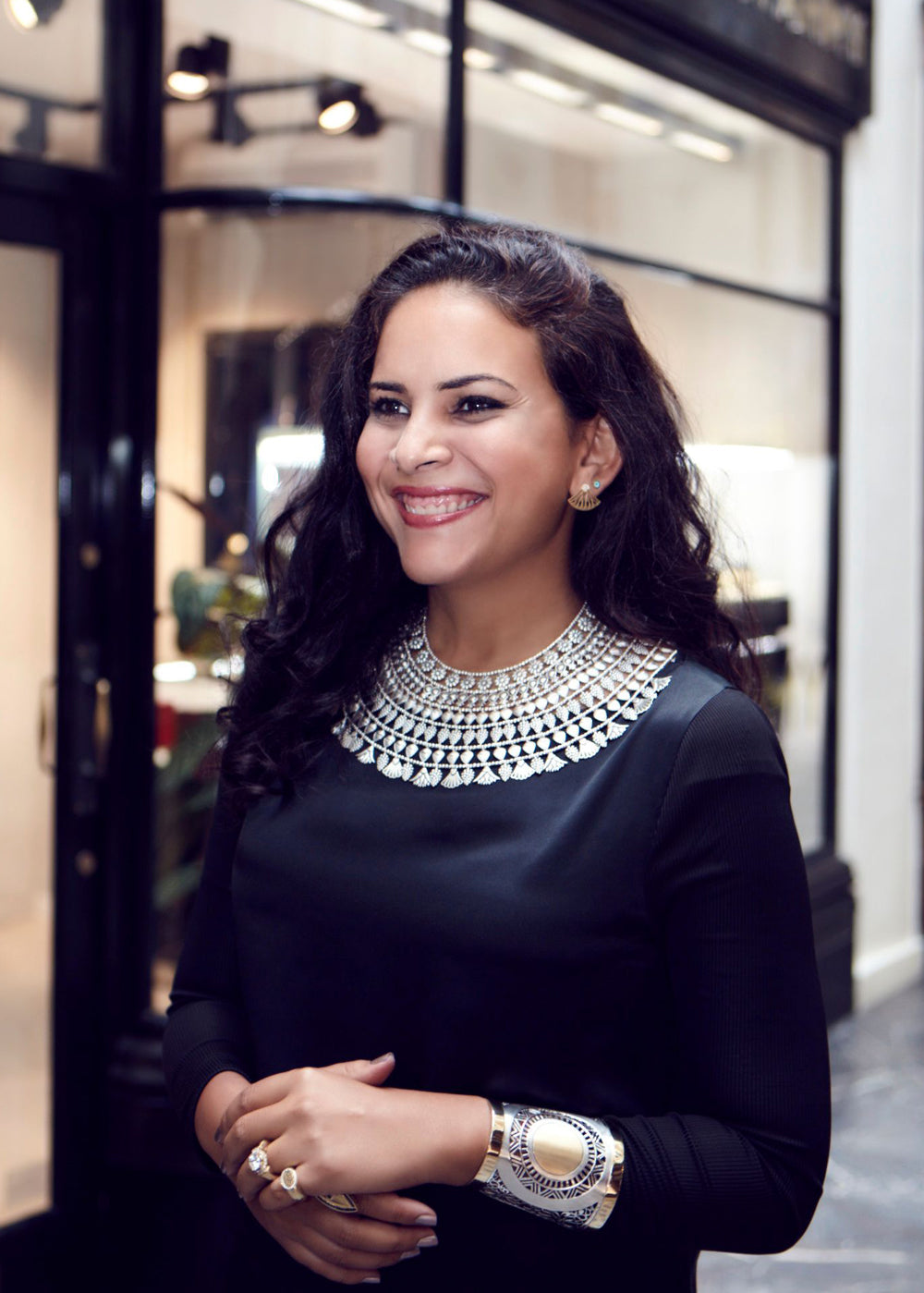 Amina: I grew up around a mother who involved me and my sister very much in her busineess so I had a natural inclination towards art, beauty and jewellery. For as long as I remember, she used to take us with her everywhere, every workshop and every exhibition.
I was always very inclined towards anything art related, but my passion really began during my gap year when I attended the contemporary Alchimia jewellery school in Florence. On the first day, when I was piercing out my first brass crown ring, I was so overwhelmed with emotion that I left the ring and called my mother up in Cairo to say that this was what I wanted to do for the rest of my life! It really was a defining moment.
LMC: Azza Fahmy is a family run business Celebrating it's 50th year. How do you think working together as a family has contributed to the success of your business? How do you relax from 'business mode' during family time?
Amina: Realising that work is part of my life, and who I am, beacuse its a family business and I grew up in it. I always have to make sure that I am not giving less in my personal life, constantly being aware of that is not an easy job.
We had to learn by time to create a balance between work and family, to separate the personal matters from the business related ones.
LMC: Both yourself and Azza, design for the brand – Do you share a similar design aesthetic?  How is your design philosophy similar or different from that of your mother?
Amina: I would say that over the years, we have managed to influence each other in terms of design philosophy. When I came back after finishing my BA at the University of Birmingham, I had a very modern approach, so naturally we were able to marry that with my Mom's approach, who was always innovative and ahead of her time, to create modern wearable art inspired by heritage and culture.
LMC: How does Azza Fahmy use jewellery making to tell the stories of Ancient history, Egyptian heritage and culture?
Amina: The amount of research in all its different forms that is done before designing any collection, whether it is a collection that celebrates a specific culture, or an important icon; is translated into our jewellery through the use of motifs, techniques, symbols, and calligraphy, and that automatically tells the story.
We feel very proud when clients ask about some pieces in reference to the inspirations behind it, whether the Nekhbet necklace from our pharaonic collection, the Qalawun cuff from the recent Mamluk collection, or a piece that carries calligraphy from an iconic poet or a singer like Rumi or the legendary Umm Kulthum
And it doesn't stop there, all types of cultures inspire us such as the Victorian, Mexican, African and so many others.
LMC: Your collections are steeped in symbolism, hidden messages, ancient poetry and  words of love. Where does this inspiration come from and are you a romantic at heart?
Amina: My mother always instilled poetry reading in us from a very young age. Only a few languages in the world can be compared to the power of that of the Arabic language, or the richness and diversity of Arab literature. We have always been inspired by poetry of the Arab world and have included many words and verses that we connect to, and accordingly our clients connect to as well, by renowned poets such as Rumi, Gibran, Kahlil Gibran, Mansour Al Hallaj, and Ahmed Shawky.
LMC: All your pieces are hand crafted by skilled artisans in your workshop . Can you tell us a bit about your craftsmen and the intricate workmanship involved?
Amina:  As a company, we have a number of techniques that we value and that we've revived through our craftsmen like filigree, hand piercing and stone setting. By adopting the ottoman merit system we ensure that each master passes down knowledge and know how to the trainer and trainee working under their supervision.
Earlier this year we established a foundation for handicrafts vocational training. The Azza Fahmy Foundation is an non-profit organisation and aims to preserve Regional heritage and further develop vanishing handicrafts. Through specially devised professional training programs, employment opportunities, and business start-up support, talented Egyptian youth will be able to carve a career in the jewellery industry and build a competent local workforce that adheres to international quality standards. This  project will also create a sustainable model for qualifying professional technicians in this industry.
LMC: Where do you source your gold and gemstones and how do you ensure your materials are from responsible sources?
Amina: I travel every year to India to hand pick our stones, we also work with suppliers who have a chain of  custody so that we are able to ensure that all our stones are ethically sourced.
LMC: Embracing sustainability is a journey and can be challenging. What is your approach to sustainability and how is Azza Fahmy  contributing to a more sustainable future?
Fatma:  As a country, sustainability has always been a part of our DNA. And in these difficult times, we are all much more aware of its importance. Brands have been using their resources in contributing anyway possible to help people within the situation. Given the current pandemic its no longer an option, but an obligation.
We at Azza Fahmy Jewellery are very conscious of what we are using in terms of materials and elements. We have changed all our packaging to vegan or faux leather, and are constantly exploring what else can be done.
LMC: You have collaborated with fashion designers in the past such as: Julien Mcdonald, Preen, Matthew Williamson to name a few. How important is collaboration to you and who would you most like to work with in the future?
Amina Ghali: We place a lot of value on collaborations and long-tern partnerships. We are always looking to partner with designers locally and globally who share our values and mindset. International collaborations have been part of Azza Fahmy Jewellery since the early 2000's ever since we set out for London Fashion Week and NewYork Fashion Week with the renowned designers like Julien Macdonald, Preen and Matthew Williamson. Further to fashion collaborations, as a brand that celebrates world cultures, we also embark on cultural collaborations, two of which were Bespoke collections for the British Museum.
With regards to the current situation, creativity is a must. We wanted to entertain our followers while educating them with interesting facts relevant to us. As a brand, poetry has always been a big influential factor in our designs and art is an important pillar in the society, so we teamed up with the talented Tunisian Singer, Ghalia Benali, to perform some of our favourite poetry verses that have inspired some of our jewellery – in her unique way.
LMC: The Azza Fahmy brand has expanded enormously in recent years including introducing a Jewellery Making School and a Collectors Theatre.  What's next on the horizon? What are your aspirations for the future of the brand?
Fatma Ghaly: Our focus in the coming period is further retail expansion and solidifying our presence in markets we have reached, mainly London as well as expanding our online platform and digital footprint.
Everything happening with covid is making people question themselves and what they are doing, generally seeing what is working and whats not. Becoming more efficient is of course a lot of pressure, but I believer its the positive kind of pressure that pushes for positive outcome. Understanding what our client needs during this period and providing it without losing our essence, becoming creative with our product mix, designs, etc
We are also building the brand beyond jewellery, and investing further in education and possibly venturing into different products.
LMC: What have you missed during lockdown and what will you be looking forward to most as soon as it is lifted?
Amina Ghali: I. miss the human touch, miss holding and hugging people, miss not being worried whether the person next to me is "too" close. Human contact is beautiful and I cant wait for that to return.
Shop all Collections from Azza Fahmy at La Maison Couture