Every La Maison Couture jewel encapsulates a story entirely unique, one that leaves the wearer in awe of both their physical beauty and profound social and environmental impact. Stories of pioneering execution, sustainable practices and exceptional craftsmanship radiate from beyond the sparkles. We are proud to showcase one such jewel and the trail-blazing brand behind its creation.
Discover the story behind your jewellery with Azza Fahmy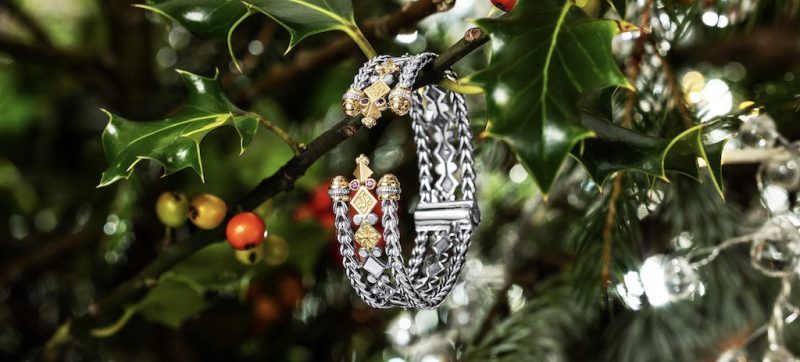 Azza Fahmy Jewellery is an international luxury design house that brings different cultures and heritage to life through its unique contemporary designs. Chairwoman & Creative Director, Azza Fahmy set out in 1969 with a great passion for jewellery design and a desire to translate this passion into tangible pieces. Today the Azza Fahmy brand has an exclusive international reputation with clients that include world leaders, royalty, celebrities, and jewellery connoisseurs worldwide. 
Azza Fahmy Jewellery is characterised by its intricate craftsmanship, preserving techniques that were used thousands of years ago. Our signature is incorporating different cultures into wearable art while combining it with elaborate artistry.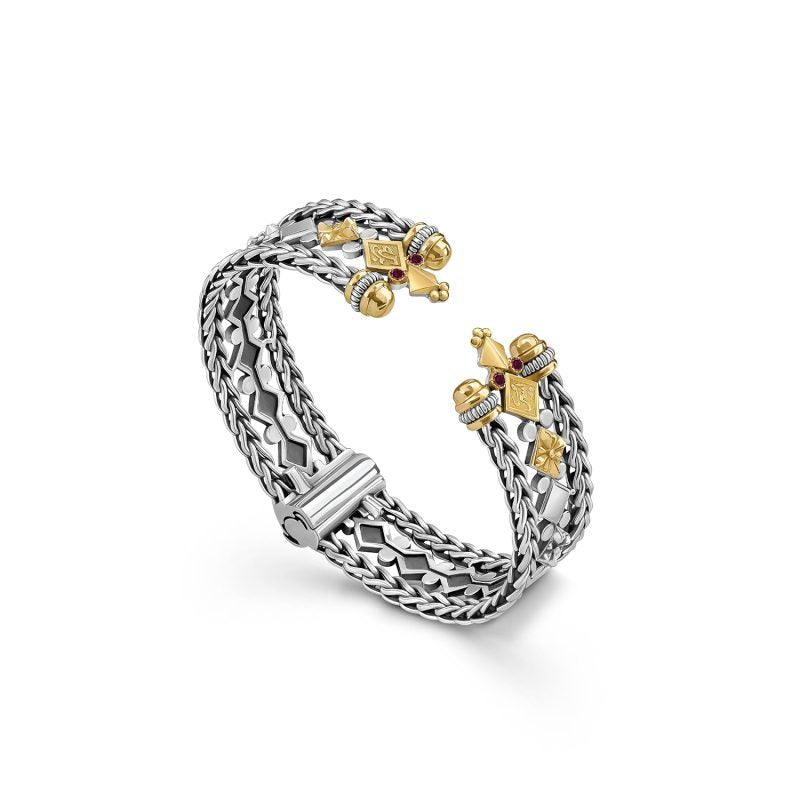 An exceptional example of this is our Romane Chain Bangle, crafted in 18kt gold and sterling silver, featuring our signature Roman chain cast as an outline. Each piece of Azza Fahmy jewellery revolves around a central inspirational motif or a poem that carries a personal message to its wearer, making the calligraphy one of our unique signatures, in addition to pioneering in combining silver & gold. The Romane Chain Bangle is Head Designer Amina Ghali's modern interpretation of signature Rajasthani Tribal jewellery, fused with Nubian geometric motifs and dots adorning the edges, tying the whole piece together. This bangle is adorned with Zircon, Rhodolite and Iolite, and inscribed with the words 'Prosperity – Blessing'.
At our design house, skilled gold and silversmiths operate under the ancient Ottoman hierarchy of master/trainer/trainee. The merit of this system is to pass on the jewellery making craft from generation to generation, ensuring the young craftsmen learn from the masters, while preserving the magic of the craft and its authenticity.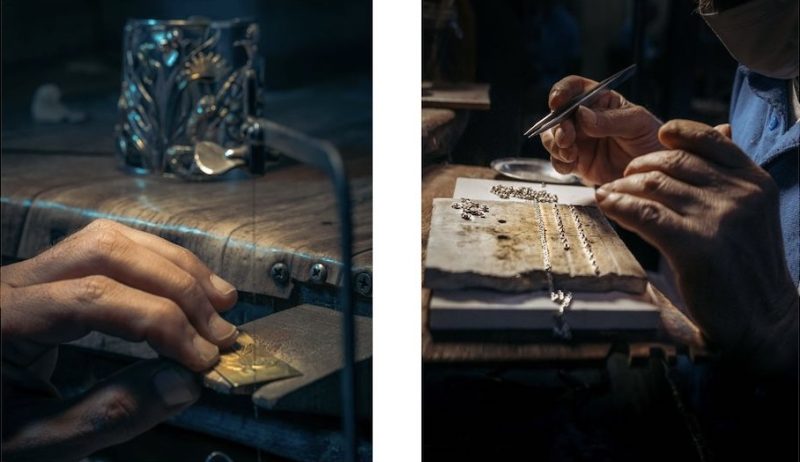 In 2013, Azza Fahmy established the 'Design Studio by Azza Fahmy' (DSAF), independently funded, it is the first and only Contemporary Jewellery Making and Design School in Egypt and the Middle East, with the purpose of harnessing the creative energy and innovative thinking of young creatives by exposing them to the culturally rich artistry of jewellery making and preserving craftsmanship. 

The Romane Chain Bangle, as with all Azza Fahmy jewellery, represents great historical significance and meticulous intertwining of cultures. The festive season is not only an opportunity to gift our loved ones, but it's also a time to shop consciously and sustainably. It's a time to honour culture and heritage and share it with our family and friends. 
Discover Azza Fahmy
Shop LMC Conscious Christmas Edit
Words: Azza Fahmy