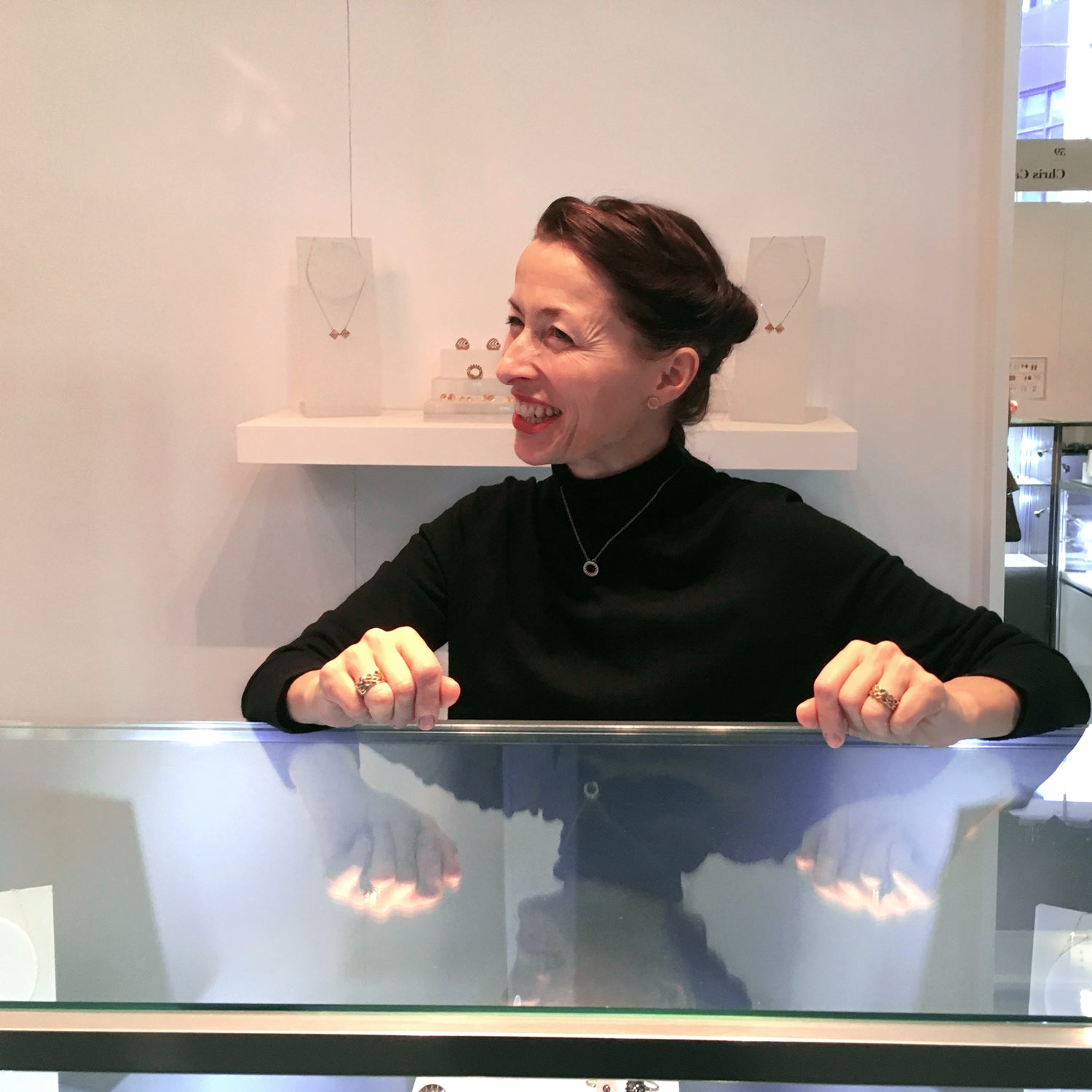 La Maison Couture:  Tell us about your brand and how it started?
Flora Bhattachary:  I started my brand after graduating from an MA at St Martins.  I had worked for UK based designers, jewellery brands and galleries prior to taking an MA – and had previously studied for a jewellery BA at Medway and HND at John Cass.  After I left St Martins I received a number of awards from the Goldsmiths Company and was named a Hot 100 Nexgem by Professional Jeweller.  It was then that I decided to go it alone with my own brand.
La Maison Couture:  How has your family history influenced your collection?
Flora Bhattachary:  My work is very rooted in my own personal history and my family's links with India.  My husband is half Indian and my family have long links with India.  My ancestor's originally went to work for the East India Company in the C18th and those links have continued to the present day.  I adore the opulence and elegance evoked by India's past – and it is that seductive mood that I want to pass onto the wearer through my designs.
La Maison Couture: If you could design jewellery for one person who would that be?
Flora Bhattachary:  I've always loved old movie stars and the glamour of the silver screen from the '30s and 40s.  As a kid, I developed a passion for watching classic Hollywood movies with strong women – Joan Crawford, Ava Gardner and Liz Taylor.  But if I had to choose one star it would be Merle Oberon – for her Indian links and dark sultry looks.  Her mystery, high-drama and sheer beauty epitomise the glamour of my designs.
La Maison Couture:  Do you consider your work important in bringing Indian culture to a new audience?
Flora Bhattachary:  The Asian references in my work are very subtle.  I tend to draw on pattern and particular motifs from Indian architecture and design.  I don't want to impose my inspiration onto the wearer.  Jewellery takes on a new meaning once purchased by a client – and a whole new personal narrative develops once a piece finds a new home!
La Maison Couture:  How do you create jewellery responsibly in a more ethically minded era in fashion?
Flora Bhattachary:  I have recently started to work more in fair-trade gold and ethically sourced diamonds and sapphires.  Any of our pieces can be supplied in fair-trade gold.
La Maison Couture:  What is your brand's philosophy?
Flora Bhattachary:  Our pieces are made with the best quality materials and craftsmanship.  All our jewellery is hand made in the UK because we create design led pieces for fashion conscious women that will look as good in 20 years as they do today.  From our base at the Goldsmiths Centre in Hatton Garden we combine traditional techniques with the latest technology, employing exceptional contemporary craftsmanship to create exquisite modern jewels.  My aim was always to design jewellery for women with attitude.  I like strong and independent women who are creative in what they wear and daring in their style.
La Maison Couture:  What is the most interesting trend in fine jewellery this season?
Flora Bhattachary:  As you can probably tell from my ring designs – I love statement jewellery and I do love long duster earrings – possibly worn singly or assymetrically for maximum impact.
La Maison Couture:  What advice would you give your 20 year old self?
Flora Bhattachary:  Be brave, go with your gut and do it!
La Maison Couture:  What can we expect to see from you next?
Flora Bhattachary:  I'll be launching the Aditi collection featuring classic diamond and white pearl rings, earrings and pendants.
Quick Fire:
Earcuff or Earrings?
I definitely favour the more refined classic earring.
Gold or Silver?
Gold all the way – although recently I have started to make pieces in white gold.
Evening or Day?
Evening – because there is even more opportunity to wear statement pieces!
Shop the Flora Bhattachary Collection at La Maison Couture and in our online boutique at harveynichols.com.