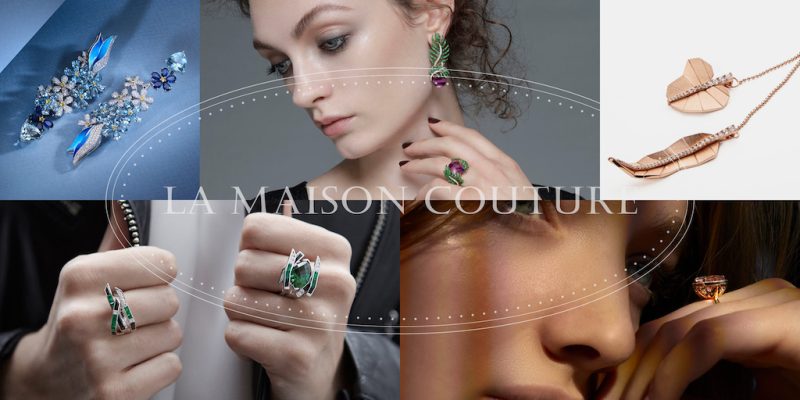 La Maison Couture's unique curation of RETRO GLAMOUR FINE JEWELS is making its mark this London Craft Week. Showcasing an exclusive collection the past, present and future of jewellery design is reimagined through the work of some their REVOLUTIONARY DESIGNERS who combine traditional artisanal techniques with innovative materials and designs. 
Set against the magnificent backdrop of The Beaumont, London Mayfair's luxury five-star hotel, the COLLISION OF OLD-WORLD LUXURY WITH DYNAMIC CRAFTSMANSHIP expects to amaze and dazzle.
ETHICAL FINE JEWELLERY EXHIBITION
Discover…London based designer Basak Baykal, whose glamorous pieces embellished with rare and high-carat gemstones are inspired by Istanbul's Grand Bazaar fusing ancient craftsmanship with modern aesthetics;
Deema, influcenced by the rich and vibrant art, landscapes and histories of Oman, unveils an elegant marriage of old motifs with avant-garde design;
female founded jewellery brand Le Ster, whose unparalleled collection of jewellery is achieved by combining traditional fine jewellery techniques with innovative technology, and a dynamic, sculptural sensibility;
luxury accessories brand Sonia Petroff, who's bold and feminine pieces are inspired by Sonia's original handmade jewellery designs from the 1960s, 70s, and 80s, featuring timeless designs for the modern woman;
award-winning jewellery designer Tomasz Donocik, whose collection takes its inspiration from the neon-lit skyscrapers of cult sci-fi movies fusing Art Deco and Futuristic aesthetics for the contemporary accessories wearer; and La Maison Couture x Tomasz Donocik London, a world exclusive jewellery collection made using responsibly sourced materials and exquisite craftsmanship combines timeless, luxury pieces with meaningful story-telling.
La Maison Couture X The Beaumont's Retro Glamour Fine Jewellery exhibition and Tea & Talk event is a UNIQUE OPPORTUNITY to experience up close and personal the exceptional quality and design of jewellery designers who are inspired by the GLAMOUR and PRESTIGE of bygone eras and POSITIVELY IMPACTING people and planet.