Looking good and doing what's best for the planet doesn't have to be a compromise; in fact, to succeed in today's climate, Style AND Sustainability are a must. We are therefore delighted to share with you some of our community who are rocking this brief: trail-blazing ethical brands who are using responsibly sourced materials combined with a heavy sprinkling of WOW!
Award-winning contemporary jewellery designer – Imogen Belfield's unique jewellery sculptures range from cascading golden nugget pendants to statement "rockesque" rings. Imogen's organic and textural designs are immediately recognisable for their geometric, sculptural forms that dramatically adorn the body.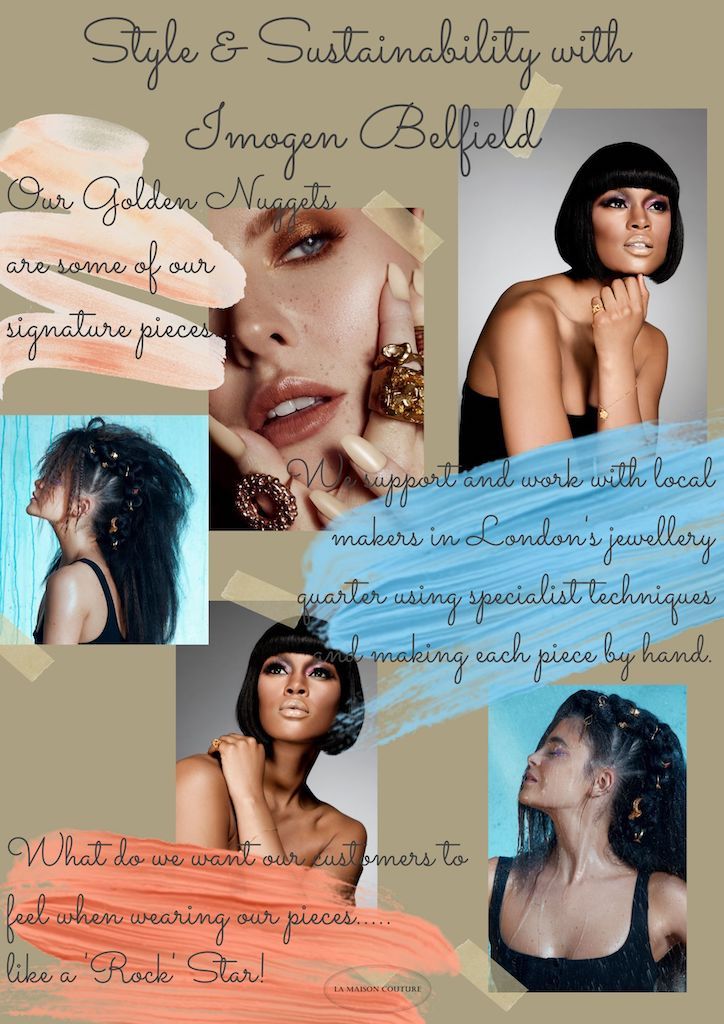 What are your favourite LAYERING pieces?
Our Golden Nuggets are some of our signature pieces and LAYER BEAUTIFULLY, whether with the charm pendants and necklaces or in the stacking ring styles. Combine these with our moltenous 'Rocks' rings in the gold, silver or both!
Any tips or advice when it comes to INSPIRING consumers to buy jewellery more sustainably?
Supporting the HERITAGE OF CRAFT MAKERS and CREATORS in the UK is intrinsic to nurturing the ancient techniques used in jewellery and the industry as a whole. We support and work with LOCAL MAKERS IN LONDON'S JEWELLERY QUARTER – Hatton Garden – using specialist techniques and making each piece by hand. The texture and detail in each of our 'rockesque' pieces is unique by the very nature of how each piece is hand forged or cast.
How do you want your customers to FEEL when wearing your jewellery?
Like a 'ROCK' STAR!
Discover More at IMOGEN BELFIELD