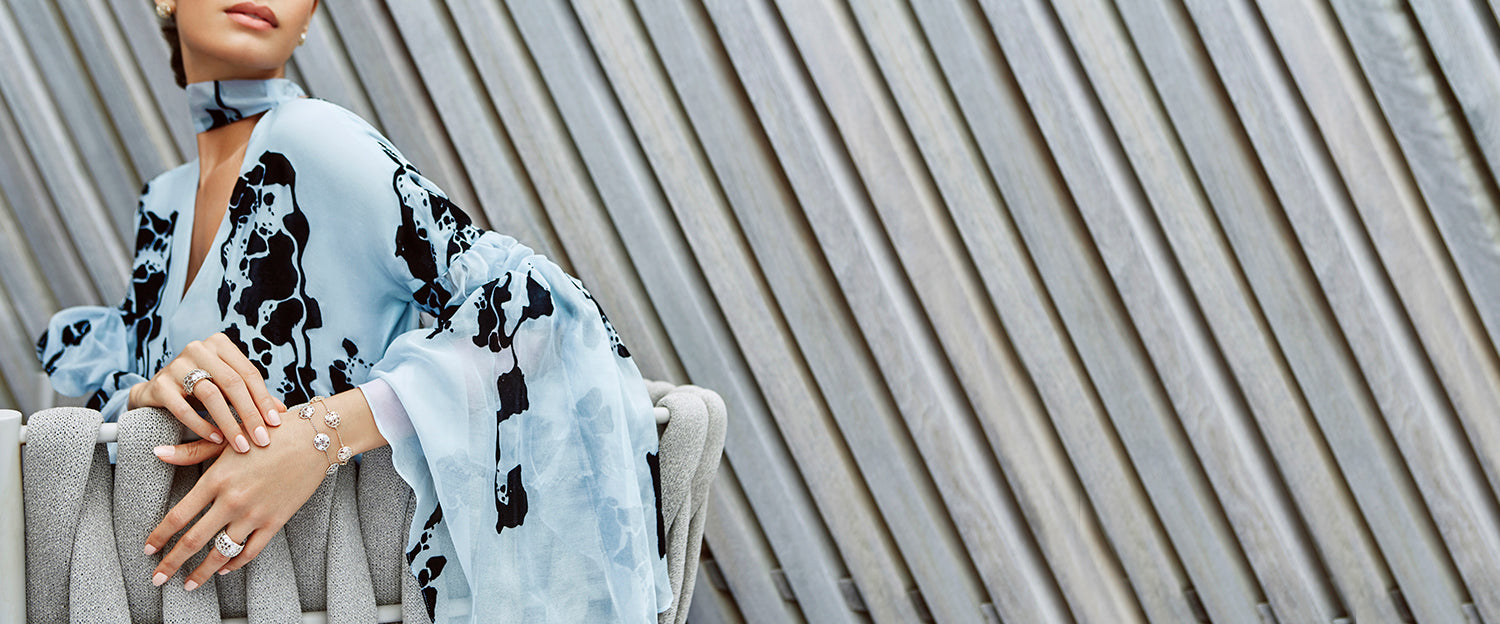 Q.We are so excited to be featuring pieces from the IVAR 10.18 Collection at La Maison Couture! What inspired your decision to launch the brand in the beautiful Maldives?
A. The collections itself are inspired by the striking colours of the sand and sea as well as the laid back sophisticated lifestyle of the Maldives so it seemed apt for the brand to launch its flagship store on the beautiful St Regis Island.
Q. Is it true that the name IVAR is derived from your family name? How important is heritage to you and your designs?
A. Yes, it is true. Ivar is my family name (also my fathers name) "Ravi" Spelt backwards. Heritage is extremely important. I combine traditional Indian techniques of using enamel and Polki which has very regal and rich Indian heritage.
Q. What sartorial influences did you have growing up, and what inspired you to study Fashion Jewellery at the London College of Fashion?
A. Growing up I've always loved watching my mom get dressed. A lot of my sartorial choices are influenced by her. I've always been interested in design, I feel my exposure while travelling abroad and my Indian roots have made me want to explore it further.
Q. What challenges have you come across using traditional Indian techniques to realise modern and Western styles?
A. I feel I'm lucky that it hasn't been much of challenge. It required imagination and thinking out of the box.
Q. What influenced your use of Polki diamonds throughout the collection?
A. Polki has always been associated with Indian bridal jewelry. It is diamonds in its purest form. The stone is absolutely beautiful, which has also been over looked. I wanted to make it wearable and give it an international appeal.
Q. Where do you source your materials, and how do you ensure they are sourced responsibly and sustainably?
A. Sustainability is very important to the brand. We make sure to source no conflict zone diamonds and gold from suppliers that reply on environmental free extraction. All Ivar pieces are made using traditional Indian jewelry techniques in factories across India with fine attention to details. The best craftsmen are used to understand my aesthetic and bring my designs to life.
Q. What kind of person do you see wearing IVAR jewellery?
A. The Ivar woman is someone who is confidant, elegant and sophisticated. I want her to feel empowered and beautiful.
Q. Where do you see yourself taking IVAR for the next collection?
A. Ivar is excited to announce that we will be in Porto Cervo at Promenade du port for the summer season.
Quickfire:
India or the Maldives? Maldives
Gold: White or Yellow? Yellow
Diamonds or Sapphires? Sapphires
Tradition or Innovation? Innovation