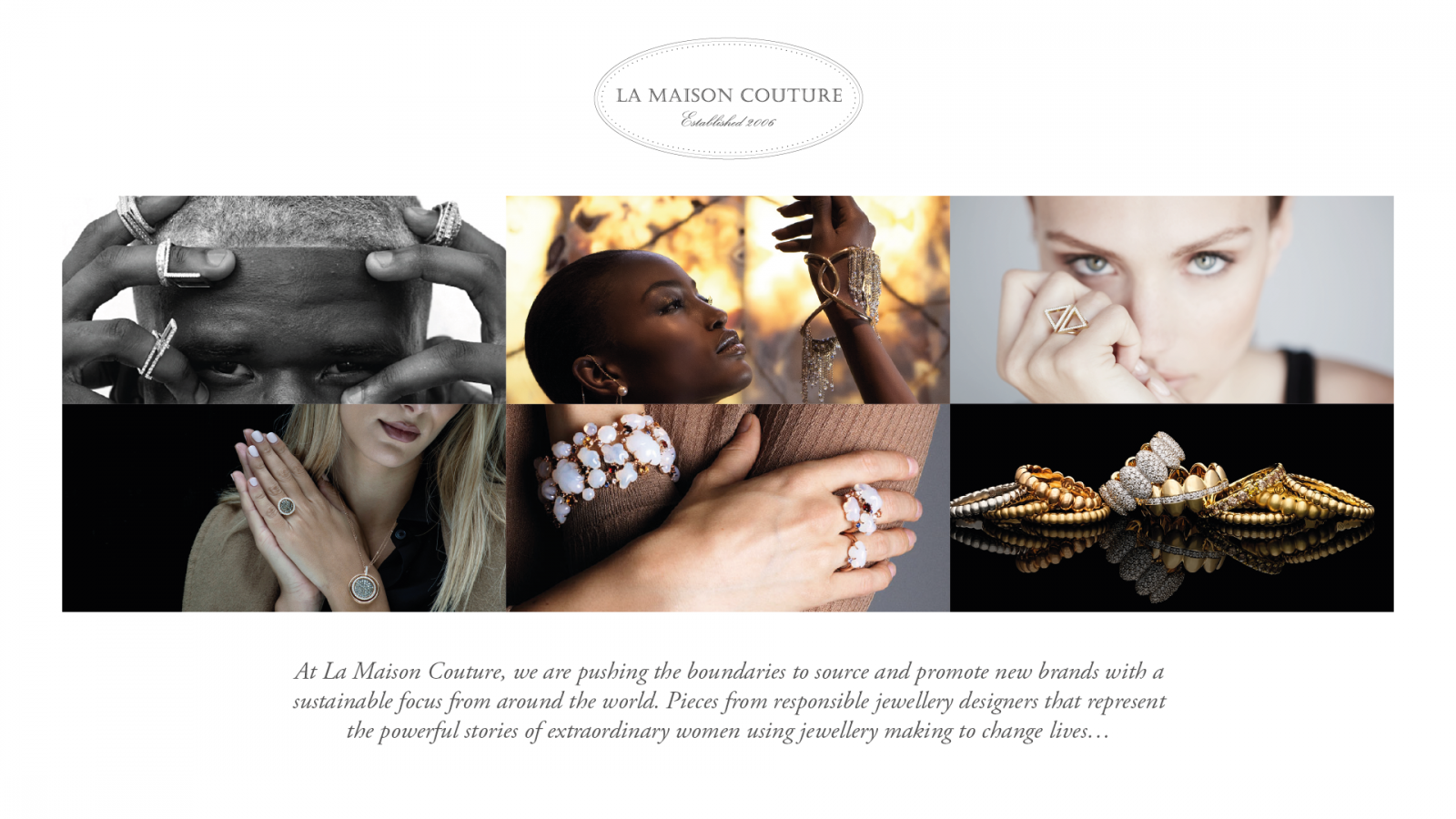 ETHICAL LUXURY ONLINE JEWELLER TO FEATURE IN MAYFAIR POP-UP THIS AUTUMN.
 La Maison Couture joins a 'positive change' collective of luxury fashion, jewellery and lifestyle brands at an exclusive concept boutique within The Conduit.
Since establishing luxury lifestyle portal La Maison Couture in 2008, Tania McNab has not only gravitated towards contemporary, niche designer jewellery, but increasingly embraced the imperative of responsible sourcing. The fit with London's just-launched members' club The Conduit – a home for a diverse community of people committed to social change – is perfect.
The store is the brainchild of the club's co-founder, global justice expert Paul van Zyl, who established Maiyet, a New York-based, sustainable luxury clothing brand. Looking to offer a new approach to retail, the Maiyet Collective will occupy a floor of the refurbished eight-storey building at 40 Conduit Street, for three days, once a month, beginning on October 5th, 2018.
Twelve fine jewellery brands from the La Maison Couture stable, will sit alongside ready-to-wear, beauty and home brands – all sharing the same commitment to responsible sourcing. As well as a retail opportunity, invited members of the public will enjoy an immersive experience with a programme of events including meet-the-maker sessions, innovative workshops, panel discussions and story-telling over the course of the three days.
"Being part of the Maiyet Collective at The Conduit is a great opportunity for La Maison Couture," says McNab, who has also acted as a consultant on the project. "We are pushing the boundaries to source and promote new global brands with sustainable focus. These responsible jewellery designers, creating contemporary pieces, are using ethically-sourced materials and have a positive impact on social and environmental change. They, and we, are using jewellery-making to change lives."
The curated selection of designer brands showcasing at The Maiyet Collective includes: Eden Diodati, who works with a social cooperative of women who survived the genocide in Rwanda; Myriam SOS and Natalie Perry, who work with recycled gold; Flora Bhattachary who works with Fairtrade gold; Julien Riad Sahyoun and Vieri using ethically-sourced materials;  London Diamond Bourse member Olivia Grace and GFG Jewellery buying responsibly sourced stones; Tiny Om who takes a well-being/holistic approach to jewellery design; the sustainably-produced Atelier Swarovski Fashion line and Atelier Swarovski Fine, created diamonds. The showcase will also feature celebrity jeweller Stephen Webster and Pippa Small who are both working ethically and are recognised champions of responsible production in the jewellery industry.