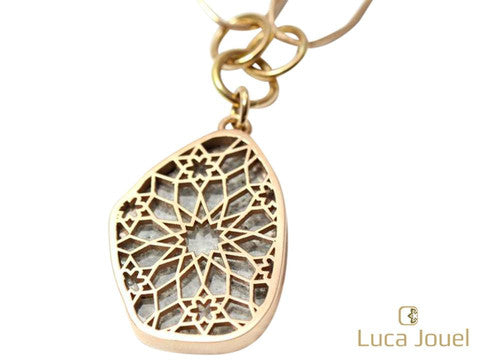 Luca Jouel's fine jewellery is leading the way in ethical fine jewellery. From organic cotton to cruelty-free jeans, ethical fashion has become more and more a part of the mainstream fashion world, as consumers become increasingly savvy about where their clothes come from.
The same thing can't always be said about ethical jewellery. While strides have been taken in areas such as conflict diamonds and the Kimberley Process, there are still many ethical concerns when it comes to the manufacturing of jewellery – from the environmental havoc wreaked by mining to child labour– that, coupled with an opaque supply chain, can make sourcing ethical jewellery a challenge.
La Maison Couture is passionate about changing this by championing best practice and promoting brands with a sustainable focus – something we've done ever since we opened our virtual doors in 2008. Fine jewellery brands like Luca Jouel, who have embraced a principled, ethical approach to business, speak to the core of our aims as a company.
An Australian ethical jewellery brand known for its soft, organic shapes and fine detailing, Luca Jouel is the brain child of designer and gemmologist Tereena Lucas, who from day one has been committed to producing sustainable, ethical jewellery.
"In my heart of hearts creating a jewellery brand by just looking at the bottom line would have simply held no meaning for me," explains Tereena. "What concerned me the most in the decision-making process was the matter of creating fine jewellery of quality, creating timeless pieces that could be kept over time and perhaps even passed on from generation to generation, and creating pieces that had been made ethically with consideration of the artisans and the finite resources necessary in the making of jewellery."
Her approach to this was two fold. First of all, it was important, according to Tereena, that she employ Australian crafts people that "uphold the same ethical standards of business practice that I value and believe need to be primary factors of importance for any jewellery brand."
"I enlisted the expertise of three experienced international CAD designers, a local master jeweller of more than 30 years experience, one of the best Australian jewellery manufacturing houses and a masterful diamond setter born abroad but now calling Australia home," she explained.
Her second concern was ethically sourcing the materials she needed to make Luca Jouel's ethical fine jewellery.
"Two particularly important challenges exist in purchasing suitable stones, namely authenticity with regards to type and possible treatments – there are many imitation, synthetic and artificially treated stones in the market, and issues relating to the actual supply chain from mine to market," explains Tereena.
"The whole industry is filled with contentious issues that start from the country where the stone was mined, to who did the mining – adult or child? Are they adequately remunerated with a good living wage? What's happening to the environment in the area as a consequence of the mining practices? What about the lapidaries charged with cutting and polishing the stones? What about the employees of the suppliers?" she continues. "There are a significant amount of people involved in the whole supply chain, and as an individual operating right at the end of this chain, complete transparency proves very difficult to obtain."
Difficult, but not impossible, as Tereena discovered. Despite the obstacles encountered Luca Jouel has maintained a rigorous approach to ethically sourcing their jewellery materials. All diamonds used have been obtained from reputable sources in the supply chain who haven't purchased conflict stones, and are fully in compliance with United Nations resolutions and the World Diamond Council's System of Warranties. The specialist manufacturers Tereena engages are members of the Responsible Jewellery Council and follow strict sourcing procedures.
La Maison Couture has a partnership with Positive Luxury, the brand behind the Butterfly Mark – a prestigious accolade awarded to fine jewellery and life style brands for their social and environmental framework, philanthropy and commitment to protect the planet's resources. Luca Jouel has passed Positive Luxury's rigorous assessment process, and its Butterfly Mark acknowledges the brand's strong ethical values– from being environmentally conscious during the design process to ensuring recycling is embedded in packaging.
"Brands carrying the Butterfly Mark offer consumers immediate and wordless reassurance that a brand can be trusted and thereby influence positive purchasing decisions," says Tereena. "If consumers are empowered to 'buy better', suppliers in turn will ultimately adhere to responsible business practices over the long-term. It all starts with a commitment to try and do better, always."
Shop the Luca Jouel – Ethical Fine Jewellery Collection at La Maison Couture.